NEW RELEASE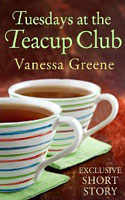 A lot can change in a year, as readers of The Vintage Teacup Club will find in this sequel, a digital short story by Vanessa Greene. The summary of Tuesdays at the Teacup Club says: "The children's books Jenny writes and illustrates from her countryside studio are doing well, and after a lifetime of looking after everyone else, she's finally putting herself first. Meanwhile, Maggie's ordered world is thrown into chaos when her baby son Leo arrives. Candlelit baths have made way for endless night feeds, and she and partner Owen are struggling to find any time for themselves. It's been a long year of financial sacrifice, but working-mum Alison has fulfilled her dream at last - she is now the proud co-owner of a cafe and art gallery. But when Alison's happiness is threatened and news from home shocks Jenny back to reality, the women must band together. Suddenly their friendship is more important than ever." Tuesdays at the Teacup Club is out in October 2013.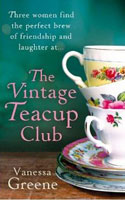 The Vintage Teacup Club - Vanessa Greene (2012)
This book begins with three women in search of something unique and simple for different reasons at a car boot sale. But they all fall for the same teaset and agree to share it and through this they form a bond. Jenny has found the man of her dreams in Dan, and then suddenly someone walks back into her life with a bang. Maggie has closed the box on her broken heart and focuses on the event in her career that could change her life but life isn't as always simple as you want it to be. Alison is happy with the way her life is, married to her true love with two daughters, but the balance of her life becomes unsteady and she is pushed to breaking point. We as readers are given an insight into the history of the teaset and I think a lot of readers will find this interesting, especially if they are interested in vintage items and their history. This is a simple easy read with a few surprises along the way. (KD)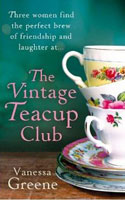 Three friends find the perfect brew of friendship in The Vintage Teacup Club, by Vanessa Greene. The summary says: "At a car boot sale in Sussex, three very different women meet and fall for the same vintage teaset. They decide to share it - and form a friendship that changes their lives... Jenny can't wait to marry Dan. Then, after years of silence, she hears from the woman who could shatter her dreams. Maggie has put her broken heart behind her and is gearing up for the biggest event of her career - until she's forced to confront the past once more. Alison seems to have it all: married to her childhood sweetheart, with two gorgeous daughters. But as tensions mount, she is pushed to breaking point." The Vintage Teacup Club is out in October.
---
---