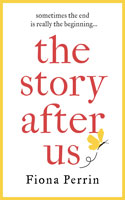 The Story After Us, the debut novel by Fiona Perrin, is about the exhausting balancing act of motherhood.
The summary says: "If she tries very hard, Ami can remember when she used to have a dynamic and exciting career and a husband who she loved more than life itself, and who was equally smitten with her...
Now she has two children, a terrifyingly large mortgage, and no idea who she has become - or why she and her husband can't even be in the same room anymore.
With life as she knew it in tatters around her, Ami is heartbroken, and in no way pulling off 'consciously uncoupling' like a celeb. But she's starting to wonder if she just might come out the other side and be happier?" The Story After Us is out in July 2018.
TEXT