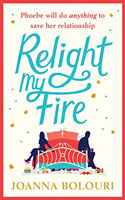 Relight my Fire is the sequel to Joanna Bolouri's The List. The summary says: "Phoebe and Oliver are stuck in a rut. With a five-year-old daughter and demanding jobs, it's not hard to see why the spark has gone.
Not one for giving up, Phoebe creates a sexy wishlist: a jar where they can ask the other for anything they've ever wanted in bed - or out of it. But with distractions aplenty - such as, why do all her past lovers think now is a good time to make a reappearance? And, she may be wrong, but is Oli keeping something from her? Will they be able to relight the fire in the bedroom?" Relight my Fire is out in March 2018.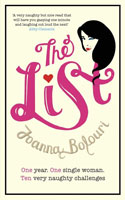 Even though it's been ages since Phoebe found her boyfriend, Alex, in bed with another woman, she still hasn't moved on with her love life. Now it's New Year and she's ready for a fresh start. Phoebe resolves to make - and keep - just one resolution this year - to improve her sex life. With the help of her best friend Lucy, she devises a list of ten things she always wanted to try, from having a threesome to role play. Now she just needs to find a guy - or guys - willing and able to assist her mission. As Phoebe details her journey in her diary, she discovers that having no-strings-attached sexual encounters doesn't necessarily bring fulfilment and happiness.
This is a funny and well-written tale but with plenty of raunch, it's not for the faint-hearted. From a chick lit perspective, with her dull job and lack of other interests, it would have been nice to see Phoebe occasionally focus on other aspects of her life. Perhaps that can be her goal for the next year ...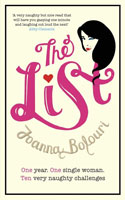 The List, the debut novel by Scottish writer Joanna Bolouri, is about one woman and a year of ten very naughty challenges. The summary says: "Phoebe Henderson may be single but she sure doesn't feel fabulous.
It's been a year since she found her boyfriend Alex in bed with another woman, and multiple cases of wine and extensive relationship analysis with best friend Lucy have done nothing to help.
Faced with a new year but no new love, Phoebe concocts a different kind of resolution. The List: ten things she's always wanted to do in bed but has never had the chance (or the courage!) to try. A bucket list for between the sheets. One year of pleasure, no strings attached. Simple, right? Factor in meddlesome colleagues, friends with benefits, getting frisky al fresco and maybe, possibly, true love and Phoebe's got her work cut out for her."