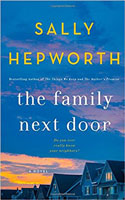 The Family Next Door – Sally Hepworth (2018)
Pleasant Court is a nice neighbourhood in the Melbourne suburbs - the sort of place families congregrate. So when single woman Isabelle moves in, she attracts some attention. Essie has just had her second baby and her personal trainer husband and her mother Barbara, who lives next door, are watching her carefully to see if she succumbs to postnatal depression again. Ange, the mother of two boys, has some doubts about her photographer husband Lucas, while Fran can't seem to stop running – even in the midst of a heatwave. Amid all these secrets behind closed doors, Essie finds herself drawn to Isabelle but maybe it wasn't coincidental at all that she chose this address.
This has all the ingredients of what makes women's fiction great. Told from different viewpoints, it's a compelling pageturner from a masterful storyteller. I basically read in an one sitting it's that good!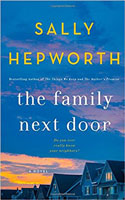 The Family Next Door, by Sally Hepworth, asks: Do you ever really know your neighbours? The summary says: "The safest suburbs often hold the deepest secrets.
Such is the case for Essie, a mother of two. In a moment of maternal despair she once made a terrible mistake, one she will always regret. Essie has since recovered, but she fears what may still lurk inside her.
Her neighbours in Pleasant Court have their own issues. Driven and organised, Ange appears to have everything under control, except perhaps her husband. Practical, intellectual Fran can't stop running. For exercise, or something else?
One day in February, during an unprecedented Melbourne heatwave, someone new arrives. Isabelle is single and childless, when everyone else is married with kids. She is renting, when everyone else owns. Her job is mysteriously vague. Strangest of all, Isabelle is very curious about her neighbours. Too curious, some might say.
It soon becomes clear that Isabelle's choice of neighbourhood was no accident. And her presence might bring even more secrets to light ..." The Family Next Door is out in February 2018.