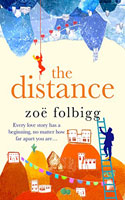 The Distance, by Zoe Folbigg, is about finding love in the most unexpected places. The summary says: "Under the midnight sun of Arctic Norway, Cecilie Wiig goes online and stumbles across Hector Herrera in a band fan forum. They start chatting and soon realise they might be more than kindred spirits. But there are two big problems: Hector lives 8909km away in Mexico. And he's about to get married.
Can Cecilie, who's anchored to two jobs she loves in the library and a cafe full of colourful characters in the town in which she grew up, overcome the hurdles of having fallen for someone she's never met? Will Hector escape his turbulent past and the temptations of his hectic hedonistic life and make a leap of faith to change the path he's on?
It's a story of two people, living two very different lives, and whether they can cross a gulf, ocean, sea and fjord to give their love a chance." The Distance is out in June 2018.
TEXT