INTERVIEW
September 2010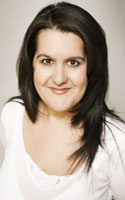 Tasmina Perry is the author of five novels, including Daddy's Girls, Original Sin and her latest Kiss Heaven Goodbye. She left a law career to become a magazine writer. She lives in Surrey, England, with her husband and son. (Interview by Christy Goldstein)
1. Tell us about Kiss Heaven Goodbye.

It's about four students holidaying on a private Caribbean island after their exams. On the last night they find a dead body on the beach and each suspect the other of murder. The book follows them over twenty years as the incident influences and shapes their glamorous lives – and in the end, threatens to destroy everything they love.

2. Since you write abroad most of the time, which has been your favourite place?

Over the last two years we've spent about five months in Australia. I love their laid-back beach culture. I write far more, in less time out there too - I think I must be solar-powered! Noosa is my favourite town in Oz - the beaches are stunning and the climate is perfect. We are doing a lot less travelling now though because my little boy has started school!

3. How did you make the transition from being an attorney to a writer?

I studied law at university, then before I knew it I was at law school and then doing a traineeship at one of the big commercial law firms. But even at college, journalism was always something that interested me – I just wasn't sure how to get my foot in the door. By chance, I met Take That just before they became famous and did an interview which won me a competition in More! Magazine. That was enough to convince me that I had to make the switch from law to writing. I took a couple of weeks off work from the law firm and went to do work experience at More! A few weeks after I'd qualified as a solicitor the editor called me up and said they had a job going as a junior writer and was I interested? My parents thought I was mad giving up a legal career for a very poorly paid magazine job but I never looked back!

4. Who is your favorite character from one of your books?

Probably Cassandra Grand, the scheming editor in Guilty Pleasures. I always find the naughtier characters far more interesting, certainly to write.

5. Which book was the easiest one to write?

I wrote Gold Diggers in the shortest time. I met a lot of women with very rich husbands who told me the most incredible stories and once I had all that, the book seemed to write itself.

6. How do you prepare for a book?

It's probably because of my legal background but I'm a real plotter and planner. I take weeks working out each character's story-arc and how it all fits together. It takes me just under a year to write a book. It usually takes a month to plot, five months to write the first draft, then three months to do a second and third draft together with my editor's corrections.

7. Who is your favourite celebrity you have met?

In my experience, the bigger the star, the nicer they are. Brad Pitt was an absolute gentleman and a real laugh. Cate Blanchett too was so funny and smart. On the other hand I've interviewed or met several British TV stars (some of whom aren't even really famous anymore) who were just rude and self-important.

8. Are exotic locations crucial to your writing?

My books are very much escapist novels so actually taking the action to far-flung, exotic places is part of what I do. I love the fact that you can be reading the book on a wet weekend in England but in your mind you've been whisked off to the sunny Caribbean.

9. If you could be any of your characters who would you be?

It all worked out quite well for Emma in Guilty Pleasures, didn't it? She was smart, nice, had her own luxury leather goods company plus a very fanciful boyfriend Rob Holland. Of all the male characters I've written I probably fancy Rob the most!

10. How different is your writing routine now that you have a child?

The only book I wrote before my son was born was Daddy's Girls; in fact I finished it the day before I went into hospital to have him! As any working mum knows, it's tough to juggle but I just have to be a bit more organised with my time and my husband John is brilliant with the child-care too.

11. What are you working on now?

I can't believe I'm on to book six already! It's set in the world of media law and features a cast-list of badly behaving celebrities, ruthless publicists and powerful newspaper editors, with a big love story and a murder mystery weaved through it.
---
---