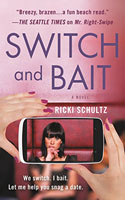 Switch and Bait, by Ricki Schultz, is about a woman who helps others snag their dream man. The summary says: "We switch. I bait. Let me help you snag a date.
All through college, Blanche Carter was known as the love doctor in her sorority. Now she's parlayed her talent into a unique consulting business: she runs the online dating profiles of Washington D.C.'s most eligible women.
Armed with a battalion of rules, Blanche expertly helps her clients optimise their profiles and ace that first date. But although she'll happily message handsome strangers (and fend off dick pics) for other ladies, Blanche's most important rule is the one she has for herself: no relationships. She's seen too much heartbreak to believe in real love anymore.
When a former fling pops up among the matches for one of her favorite clients, Blanche gamely messages him on her behalf. Blanche is definitely over him, and this is how she'll prove it. But if she doesn't watch out, Blanche might end up not only screwing over a client - and possibly tanking her entire business - but breaking her rule about love as well." Switch and Bait is out in June 2018.
TEXT