INTERVIEW
June 2010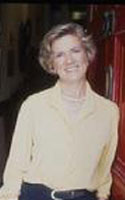 SUSANNE O'LEARY
Susanne O'Leary's fifth novel Swedish for Beginners is out this month. She was born in Sweden, trained as a fitness instructor, travelled with her Irish diplomat husband and now lives in Ireland. (Interview by Shirley Benton-Bailey)
1. Can you tell us a little about your publishing history?

I started writing in 1998, when I used my training as a fitness teacher to write two fitness and health books for women. Then someone suggested I write a novel based on my experiences as the wife of a diplomat and my first novel, Diplomatic Incidents, was published in 2001 by Blackstaff Press. A further diplomatic novel followed in 2003, European Affairs, also published by Blackstaff Press. While on a skiing holiday in the French Alps, I got the idea to write Fresh Powder, which was published in 2006 by New Island, followed by Finding Margo, also published by New Island. My fifth novel, Swedish for Beginners, will be out in paperback soon.

2. How long does it take you to write each book?

It normally takes about a year, from the beginning of the first draft to the final, polished novel.

3. What inspired you to write your first and latest book?

My first book was based on my experiences as the wife of a diplomat, using all the funny episodes that arose during that time. My latest book was inspired by my own feelings of confusion about my identity and my roots (being Swedish but living in Ireland).

4. Is there a contemporary women's fiction book out there that you wish you'd written yourself?

Many. Especially the latest ones by Marian Keyes.

5. How do you feel about the label "chick lit"?

I don't mind it at all. I feel that now it's a well-established genre and I'm in such good company with many outstanding authors.

6. Are you a planner when it comes to writing your books, or do you just see where an initial concept leads you?

I initially didn't plan much when writing my first two novels, but now I find that writing a detailed outline is a great help. It really helps me focus on the plot and characters right from the start.

7. Which comes first for you – characters or plot?

Usually plot. I get my ideas from being in a certain situation and thinking 'what if'. I was in a chalet in the Alps with some friends and thought 'What if we get snowed in for several days?' That became Fresh Powder. Or I read the map wrong while driving with my husband in France, which resulted in a row and I thought: 'What if I just walked out on him right here?'. That became Finding Margo.

8. What's the best piece of writing advice you've ever received?

There are many. But 'cut out the darlings' is one that constantly rings through my mind as I edit. That means you have to be very critical of your own work and some phrases or expressions, or even entire scenes that you might love yourself but are not necessarily that brilliant…

9. Do you ever get writer's block and if so, what do you do to resolve it?

I usually go out for a walk. The first time it happened, I was terrified, thinking I had lost the ability to write. But then I got a good idea for that particular passage and I was off again. Now I don't worry about it but just leave that project for the moment and write something else: a blog post or a short story and then come back to it with a whole new take on the part where I got stuck.

10. What advice would you give aspiring authors?

Make sure your work is absolutely perfect before you submit to agents or publishers.

11. Where would you like to see your writing career going in the future?

I'd like to branch out into writing detective stories but still do the occasional women's fiction novel as well.

12. What are you working on at the moment?

Right now, I'm writing a detective story with another writer. It's under wraps for the moment but all will be revealed once we have something to show.
---
---