SUSAN DONOVAN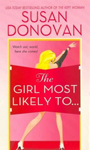 The Girl Most Likely To (2008)
Kit returns to her West Virginian hometown of Persuasion, with her best friend Nola in tow, to berate the boy who broke her heart two decades earlier. Riley dumped her before she could tell him she was pregnant. So she hitchhiked out of town and brought up Aidan by herself. But now finding Riley on a construction site, she is shocked to discover that he already knows about his son. And he's just as angry with her. As the pair try to reconcile, they face several challenges - not least Riley's ex-fiancee, who just can't seem to take "I don't" for an answer, and Kit's abusive father Virgil.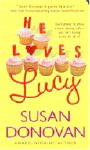 He Loves Lucy (2005)
Marketing exec Lucy Cunningham has got round-the-clock access to a gorgeous personal trainer for a whole year. But first she's gotta give up chocolate before it literally kills her. She's become the guinea pig in a marketing pitch for Palm Club Gym, where trainer Theo Redmond will take her fitness-challenged, overweight body and turn it into lean machine - all in front of a Miami TV audience. And for every pound she loses, she and Theo will each earn $1000. With Lucy intending to use her payout for dropping 100 pounds to flee her psychotic boss and open the doors to her own agency, she is willing to sweat. But she never expected things to heat up between her and Theo.

---
Also by author:


I Want Candy



Cheri on Top



Ain't Too Proud to Beg



The Kept Woman



Public Displays of Affection



Take a Chance of Me



Knock Me Off My Feet

---