STACEY BALLIS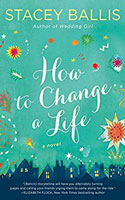 How to Change a Life (2017)
Eloise has a very comfortable life. She loves her job as a private chef, her Corgi, and spending time with her mum, Aunt Claire, and best friend Marcy. When she reunites with her two best friends from school, Lynne and Teresa, she realises just how much she has missed them. In an effort to spice up their lives by their 40th birthdays, the three make a bet to accomplish a bucket list of items tailored to each of them - Lynne needs to get a dog, Teresa aims to spice up her marriage, and Eloise needs to start dating again after a really bad breakup took her out of the dating game years ago. When Eloise meets Shawn, she figures she's got the bet in the bag, until an unexpected turn in her romance puts her other relationships in jeopardy. The question then becomes whether they can all make it to 40 as still the best of friends.
Stacey Ballis has once again created the perfect recipe for a great book; engaging characters, laughable, true-to-life moments, a cute pup, and delicious food. I have yet to be disappointed by one of her books and they just keep getting better. (LEK)

---
STACEY BALLIS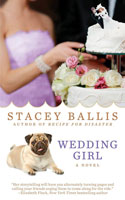 Wedding Girl (2016)
When pastry chef Sophie Bernstein is jilted at the altar in spectacular fashion (her fiance has eloped with someone else!), she is faced with more than just the embarrassment of being dumped. She is fifty grand in wedding debt and soon finds herself out of her job and her home. Deciding she needs a little time to regroup, Sophie moves in with her grandmother, Bubbles, and gets a part-time job at the neighbourhood bakery while she figures out her next step. She soon finds herself acting as an online wedding planner when a bakery customer likes the suggestions Sophie gives her for her wedding. When several new opportunities are revealed, both professionally and personally, Sophie must decide on the next chapter of her life.
Stacey Ballis has created a genuine, likable, fallible character in Sophie – she's someone you want to be best friends with. The supporting characters are a hoot and help create a well-rounded story about things that happen in real life. What an absolute pleasure this book was to read. (LEK)

---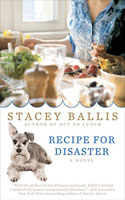 Recipe for Disaster (2015)
Anneke Stroudt is very happy with her life – until it falls to pieces in the blink of an eye. The day she decides she's had enough of her condescending boss and co-workers and quits her job, she comes home to find her fiance with someone else. All of the sudden, she is single, jobless, and for all intents and purposes, homeless. She packs up what's left of her life, including her cranky schnauzer, Schatzi, and moves into the shell of a house she is renovating in her free time. With nothing to do but work on her house, she figures now is as good a time as any to start the remodelling business she's been dreaming about. With some help from her friends, old and new, she sets about finishing the house and in the process, puts herself back on her to-do list.
While the home remodelling aspect was a nice change, there were a couple of projects described in the book that went into more detail than I cared to read about. Besides that, I loved reading a story about a smart, capable, real woman such as Anneke. Stacey Ballis is wonderful at creating strong lead women, which is why I always look forward to her books. For that, and all of the mouth-watering recipes she sprinkles throughout the story, Recipe for Disaster doesn't disappoint on either score. (LEK)

---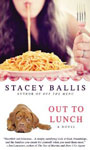 Out to Lunch (2014)
Jenna is mourning the loss of her best friend and business partner, Aimee, who passed away much too soon. In her place, Aimee has "willed" to Jenna her husband, Wayne. For the next year, Jenna must be the gatekeeper for Wayne's inheritance and make sure he doesn't act on every harebrained business plan he comes up with. Wayne is the only thing Jenna never understood about Aimee and she is dreading having to deal with him on a more personal level for an entire year. However, as they begin to spend more time together and rely on each other to help them through their grief, Jenna begins to see all of the good qualities in Wayne that Aimee loved so much, and in a sense, is helped back to life, on so many levels, through her friendship with him.
Amongst the grief and sadness of losing Aimee, this is also the story of picking up the pieces and getting on with life. Stacey Ballis is very gifted at creating wonderful characters who make you laugh, cry and cringe, and situations which are as close to real life as fiction can be. It's another winner.(LEK)

---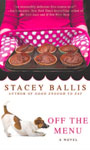 Off the Menu (2012)
Alana Ostermann has her hands full. As executive culinary assistant to high-maintenance celebrity chef, Patrick Conlon, she runs his career, and his life, from behind the scenes. Writing recipes for his cookbooks, training his staff, and even running interference for his crazy love life, she is basically at his beck and call any time of the day or night. This poses a problem when she begins dating RJ, who turns out to be a better boyfriend than she could have ever hoped for. Trying to balance her new relationship with her demanding boss, large family, and the original man in her life, pup Dumpling, Alana finds trying to keep everyone happy can be a bit of a struggle. Throw in the possibility of two new dream jobs to choose between, each with a list of positives to make her life even better than it already is, and you have one very frazzled woman.
Not only is Alana a strong and highly likable woman, but the story and characters surrounding her support her attempt to be everything to everyone, like so many women today. Stacey Ballis has once again perfected the recipe for a great book - interesting characters and a satisfying plot, cute boy, cute dog, and incredible food, complete with recipes. Off the Menu has it all. (LEK)

---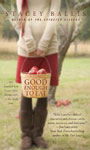 Good Enough to Eat (2010)
After Melanie Hoffman loses half of her body weight, she leaves her job as a lawyer and opens a gourmet take-out cafe, bringing healthy and delicious foods to the masses. She is finally healthy, active and has never been happier. That is until her husband decides he liked her better when she was bigger and leaves her for her former best friend who, incidentally, is twice Melanie's size. With a group of truly eclectic and wonderful friends supporting her along the way, Melanie navigates through her new life as a thin, single businesswoman. Financial difficulties force her to take in a roommate, free-spirited Nadia, and she begins dating Nathan, a documentary filmmaker whom she meets on a trip to D.C. Even with all of the positive changes in her life, Melanie is still plagued by self-doubts about herself and her abilities, which provide for a rich story that could belong to any of the women I know just trying to make it through the day.
Good Enough to Eat is the best book I've read in a long time. The dialogue is witty, the writing crisp, and the characters came to life the minute I started reading. The story is a fresh take on the classic chick lit genre, as Melanie tackles the issues she has with her business and relationships. I was completely hooked before I finished the first chapter and was truly sad when I finally came to the very satisfying end of the book. (LEK)

---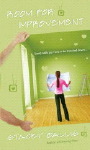 Room for Improvement (2006)
Interior decorator Lily Allen gets a job on Swap/Meet, a TV DIY show that does up two singles' homes then lets them meet at a party of friends. What Lily didn't count on when she took the dream job was fussy contestants, a ditzy host, warring fashion consultants, and a competitive fellow designer. Nor that her schedule would leave her without time to see her friends, more or less date.

---
Sleeping Over (2005)
Spending the night together does not always mean romance is on the cards for these five friends. Fresh from a stint in the Peace Corps, Jess is staying with a family friend, Harrison, a sexy doctor, until she can find a place of her own. Chef Robin has a crush on restaurant owner Michael, while Lilith is carrying a torch for an actor. Anne meets her dream guy, while her sister Beth reconnects with a former classmate.

---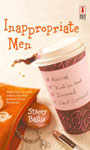 Inappropriate Men (2004)
Sidney Stein is married to her college boyfriend. After nine years, her marriage has become stale and unexciting. Sidney starts a crazy affair with Geoff, a much older married man who is also a colleague of her father's. Sidney ends her marriage, however, it is obvious that Geoff will never leave his wife. The book follows Sidney as she continues to sleep with Geoff while dating disastrous men that she finds from her personal ad. The novel is interspersed with rather random poems that at times are very long and boring. I found this to be a rather disappointing read because the main character is so unlikeable and annoying. (AO)