SOPHIE COUSENS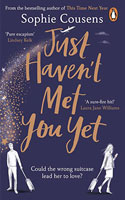 Just Haven't Met You Yet (2021)
Journalist Laura interviews people about how they met the love of their life. Her late parents had the ultimate love story – finding each other through a ha'penny coin. On a trip to Jersey to trace the path of her parents' romance, she picks up the wrong suitcase and from his belongings, thinks the owner must be her perfect match.
As Laura tries to track down the mystery man, she jumps into Ted's cab and he becomes her tour guide to the island. But as she grows fonder of Ted, she realises he comes with baggage too.
Including a raft of Jersey characters and scenery, this was a sweet, well-crafted story with plenty to keep readers interested (although the last few chapters leading to the ending dragged on a bit). Laura was an engaging character to follow on her journey to find love and uncover her family history. Three books in, Sophie Cousens is now a must-read author for me.

---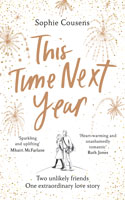 This Time Next Year (2020)
Pie baker Minnie Cooper is having her usual unlucky New Year's birthday after finding herself locked in a toilet overnight at a club. Her rescuer is none other than Quinn Hamilton – the guy who stole her name.
Thirty years ago, when their mothers were in labour at the same hospital, Minnie's mum Connie revealed that she was about to name her baby Quinn. However Tara gave birth first, winning the prize money for first baby of 1990, and named her son Quinn.
Ever since Connie has proclaimed that her daughter was born unlucky and her birthday has continually been plagued with trouble. But maybe Quinn doesn't have a completely charmed life either.
And so the story continues, going back and forth in time to show the many times Minnie and Quinn's paths nearly crossed over the years. I was totally swept up in this gorgeous tale and admired how cleverly plotted it was. It'd make for a great rom-com movie.

---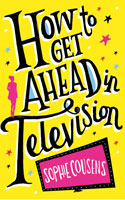 How to Get Ahead in Television (2015)
Poppy dreams of a career in television and is willing to start at the bottom. Even though her mum is nagging her to get a serious job, like in banking, the history graduate finally scores her first break when she becomes a runner at RealiTV, the home of reality TV shows such as Last Clan Standing and Strictly Come Prancing.
But to win a permanent position, she is up against the infuriatingly smug and ever-so-competent Rhidian. They have to do everything from getting coffees and standing in as quiz contestants to keeping the talent sober.
Poppy is a fantastic, spirited character, who gets herself in all sorts of hilarious messes.
Written by someone who has spent years working in television herself, the book offers a tantalising insider's view into the world of TV and the fictional shows are clever twists on real reality programs. I highly recommend that you switch off the box tonight and grab this book instead. There's even the hint of a sequel – here's hoping!