SONIA HARTL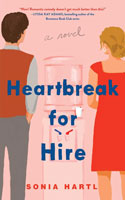 Heartbreak for Hire (2021)
Brinkley works as a heartbreaker, getting back at people in revenge schemes on behalf of jilted lovers, frenemies or annoyed co-workers. No one knows about her job, which she is doing to save enough money for her dream of opening an art gallery.
Against her usual rules, she ends up going home with one of her targets, so is dismayed when he turns up at the office as her boss' new hire.
Although it starts with a bang, this story of girl power, revenge and enemies to lovers just didn't do it for me. I should have quit earlier, like Brinkley's colleague.

---