SONALI DEV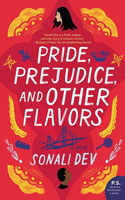 Pride and Prejudice and Other Flavors (2019)
In this Pride and Prejudice-inspired tale, Trisha Raje is an accomplished neurosurgeon but is still considered a bit of a black sheep in her influential Indian-American family. She has found a way to save the life of a young artist called Emma but the operation will make her blind.
Meanwhile Emma's brother, DJ, is a talented chef who has taken on the responsibility of looking after his sister so needs to do well when he is hired for a catering job for the Rajes. His first impression of Trisha is that she is stuck-up and intolerable.
This tale about pride, prejudice, privilege and passion sees the author put her own unique spin on the classic story. It has all the ingredients to entice a reader into this upcoming series about the family descended from Indian royalty.

---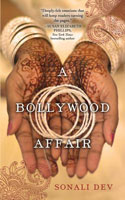 A Bollywood Affair (2014)
Mili was able to convince her grandmother to allow her to leave her Indian village to study in the US. But one thing she hasn't been able to leave behind is her wish that her husband reunites with her – she hasn't seen him since she was wed at the age of four.
Bollywood film director Samir heads to the US, to get Mili to sign the annulment papers for his brother, who has remarried and is expecting a child. But he can't bring himself to tell her who he is and why he is in town.
I liked the concept, the glimpses into Indian culture and the slow-burn romance but it felt like something was missing. Certainly not tears - there was a LOT of crying, and not just from the main character.

---