NEW RELEASE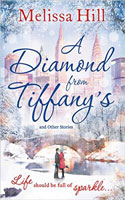 A Diamond from Tiffany's picks up the story two years after Melissa Hill's novel Something From Tiffany's. The summary says: "IIt's been two years since Ethan Greene and Gary Knowles collided one fateful evening outside Tiffany & Co on Fifth Avenue. A mix-up with their shopping bags sent each man's life on an unexpected trajectory, and while Gary and his fiancee Rachel are heading for the altar, Ethan's love life is not so settled. Rachel's dreams are within her grasp; her restaurant is going from strength to strength and she and Gary are set to be married amongst family and friends at an idyllic New York location. But when they arrive in the city only days before the ceremony, Gary seems distracted and restless. Could he be having second thoughts? Ethan is anxious to see Terri again at the wedding; he truly felt they had something special, and plans to use the time in New York to prove to her that their relationship deserves another chance. Will the romance of New York and Tiffany's work its magic on the couples once more?..." A Diamond from Tiffanys is out in December 2015.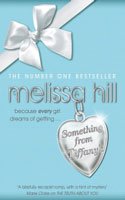 Something from Tiffany's - Melissa Hill (2011)
On Christmas Eve, two very different men are shopping in Tiffany's on 5th Avenue in New York. Ethan's agenda is to buy his girlfriend Vanessa an exquisite and expensive engagement ring, while Gary happens to be passing the store and realises that he needs an afterthought Christmas present for Rachel, the woman who brought him on a trip to New York. When Ethan comes to Gary's aid after he is hit by a cab, the men's Tiffany purchases become mixed up. Rachel discovers the ring while Gary is in hospital and assumes that Gary was about to propose. Ethan, meanwhile, is gearing himself up to propose to Vanessa on Christmas morning until he discovers that his magical Tiffany's box contains ... a charm bracelet. It's not long before Ethan realises how the mix-up occurs and resolves to track down Gary and get his property back - but with a very expensive ring at stake, will it really be that easy? As time moves on and Ethan's attempts to reunite the ring with the woman it was actually intended for come to nothing, the reader is forced to question if fate has other ideas for the couples. The concept of this book is inspired, and one that will appeal to all demographics. Having read all of Melissa Hill's books, I found this one particularly interesting because I usually can't turn the pages fast enough to get to the twist, but with Something From Tiffany's, the concept was big enough in itself for me to enjoy the book on that level alone. When the biggest twist in the book unfolds, I actually found it secondary to the enjoyment of the characters' journey. There really is something for everyone in this book - not just twists but also good characterisation, romance and mystery. It's definitely a book to recommend to a friend. (SBB)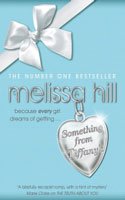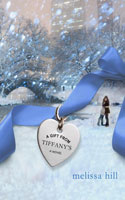 One of our definite must-reads for 2011 will be Melissa Hill's Something From Tiffany's. The summary says: "Doesn't every girl dream of getting something from Tiffany's? On 5th Avenue in New York City, two very different men are shopping for gifts for the women they love. Gary is buying his girlfriend Rachel a charm bracelet. Partly to thank her for paying for their holiday-of-a-lifetime to New York. But mainly because he's left his shopping far too late. Whereas Ethan's looking for something a little more special - an engagement ring for the first woman to have made him happy since he lost the love of his life. But when the two men's shopping bags get confused, and Rachel somehow ends up with Ethan's ring, the couples' lives become intertwined. As Ethan tries to reunite the ring with the woman it was actually intended for, he discovers this isn't that easy. Does fate have other ideas for the couples? Or is there simply a bit of Tiffany's magic in the air..." Something From Tiffany's has been renamed A Gift From Tiffany's in the US.
---
---