Journalism graduate Elinor is in New York looking for a job but so far she's only been able to get a babysitting gig. But things start to look up when her boyfriend Mike scores a position on an influential news website and his mother – a well-known writer – puts Elinor forward for a job at a BuzzFeed-like start-up. And Elinor soon shows a knack for writing viral content.
As a former newspaper journalist myself, it was interesting reading about those involved in the new media, where social media likes drive content decisions. Much like consuming those type of websites, it was all entertaining and a quick read but at the end you wonder what was the point of it all.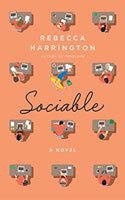 Sociable, by Rebecca Harrington, is a story about being young and broke - but good at creating viral content. The summary says: "When Elinor Tomlinson moved to New York with a degree in journalism, she had visions of writing witty opinion pieces, marrying her journalist boyfriend, and attending glamorous parties with famously perverted writers.
Instead, Elinor finds herself nannying for two small children who speak in short, high screams, sleeping on a foam pad in a weird apartment, and attending terrible parties with Harper's interns wearing shapeless smocks.
So when Elinor is offered a job at Journalism.ly, the digital media brainchild of a Silicon Valley celebrity, she jumps at the chance. Sure, her boyfriend is writing long think pieces about the electoral college for a real website while Elinor writes lists about sneakers and people at parties give her pitying glances when she reveals her employer, but at Journalism.ly Elinor discovers her true gift: She has a preternatural ability for writing sharable content. She is an overnight viral sensation!
But Elinor's success is not without cost. Elinor's boyfriend dumps her, two male colleagues insist on 'mentoring' her, and a piece she writes about her personal life lands her on local television. Broke, single, and consigned to move to a fifth-floor walkup, Elinor must ask herself: Is this the creative life she dreamed of? Can new love be found on Coffee Meets Bagel? And should she start wearing a smock?" Sociable is out in March 2018.