INTERVIEW
July 2012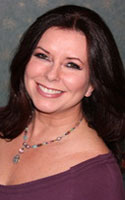 SIOBHAN McKENNA
Siobhan McKenna was the winner of TV3's Write A Bestseller competition with her debut novel The Lingerie Designer. Her second novel The Other Woman is out this month. She has worked as a design director in the international clothing trade, and has trained with Deepak Chopra in the tradition of Ayurveda. (interview by Shirley Benton-Bailey)
1. Tell us about your new release, The Other Woman.

Wine and chocolate form the backdrop for the novel, so I hope to whet the reader's appetite! In keeping with The Lingerie Designer, my first novel, I've brought my knowledge of the business world and love of off-road travel to the book, as Kennedy's Cafe & Chocolate Emporium decide to venture into the world of wine. When the wine flows and the temperatures rise in the Italian vineyards, Owen Kennedy and his right-hand woman Ruby Hart find themselves falling for more than the Boselli family's produce. Owen's wife, Katherine Kennedy, goes to Kenya on a junket to visit coffee plantations, but when business is over Katherine doesn't leave. I wrote the novel to arouse the senses, address marital disharmony - how some marriages survive, while others fail, and ultimately to transport readers into the bittersweet world of The Other Woman.

2. What inspired you to write the book?

My partner, Graziano, is Italian and the co-owner of an Italian cafe-wine bar. I met him when I popped into his newly opened cafe for a takeaway coffee. After a while the coffee turned into wine. We fell in love and the seed for The Other Woman was planted. Sounds corny, but it's true!

3. Your first book, The Lingerie Designer, won the Poolbeg Write a Bestseller competition last year. How has the last year been for you and what's the most exciting experience you've had as a result of it?

2011 was a roller coaster; with my emotions and work life, having highs and, yes, some lows. Winning the Poolbeg/ TV3 competition was amazing and I was overwhelmed by the support and good wishes I received. Because TV3 ran the competition there were numerous TV appearances - the news team even came out to my house! It was a great experience, but took some getting used to after the solitary life of writing. By far, the highlight of my career was being shortlisted for an Irish Book Award in the Best Newcomer category. My publisher, Paula Campbell, emailed me, to ask was I available to take a call. I knew it was something serious. When she rang a few minutes later to tell me the news that I'd been shortlisted by the Irish Literary Academy, I was shocked. Making this shortlist was for me an affirmation and honour that is the highlight of my career to date. All that happened within ten months, which is an extremely short time in the publishing world.

4. Which books have had the biggest impact on your life?

From my teen years, Across The Barricades, Go Ask Alice and The Diary of Anne Frank. Later years, I'd say Angela's Ashes. I've chosen those books as I've never forgotten the characters and their story. However, the book that has changed the direction of my life, and I still reread regularly is The Seven Spiritual Laws by my mentor, Deepak Chopra. I recommend everyone to have their own copy of it.

5. Do you think you put much of yourself as a person into your books?

I do use personal experience to help me with my storylines. It helps bring real emotion to the story. It also means if a reader thinks something is bit far-fetched that I can stand over it, as was the case with the synchronicity in The Lingerie Designer. Much of that was based on real events. Characters may start off loosely based on people I've met, even in passing. It could be a turn of phrase they use or a quirky sense of dress. But as I write, the characters take on their own personalities and therefore become their own person. None of my characters to date have been based on myself.

6. Is there any contemporary women's fiction book you wish you'd written yourself?

Bridget Jones's Diary

7. How do you feel about the chick lit label?

It used to bother me but not any more. A well-respected journalist told me not to get too hung up on it as it's a term used for female writers in general and doesn't mean all books in the genre are, "bubblegum for the brain", I think was the term used. Much research, passion and deeper meaning is interwoven into women's commercial fiction. I love when I get an email from a reader telling me that The Lingerie Designer has encouraged them to make changes in their own life. I've had plenty of those emails so that's good enough for me, no matter what label people want to put on the books.

8. Do you have a writing schedule?

Yes. When I'm writing I avoid social networking sites, which eat into writing time. I turn off my mobile phone also. I drop my daughter to school, stop for a coffee in my partner's cafe before opening hours, then head home to my office. I deal with emails first, and start writing by 9.30. I don't use a laptop as I'm too easily distracted so I sit at my desk until I'm happy with what I've done. I used to aim for 2000 words per day but now I'm more concerned about the quality of the writing. If I'm on a roll, I could work through until 10pm. Other days I could stop by lunchtime. For me, the trick is to find the balance in between those days. When writing, I write six days per week and take Sunday off.

9. What's the hardest part of being a writer?

Deadlines!

10. What advice would you give aspiring writers in this changing publishing landscape?

Firstly, if you've finished a manuscript - well done! It is a great achievement. Secondly, do your research on who you would like to represent your book and publish it. I also think it's worth paying a freelance editor to look at your manuscript before you send if off. It needs to be in the best shape possible to stand out from the others. You also need to believe in your work passionately, because if you don't, no one else will. Don't give up too easily but do take on board advice you might receive from other writers or people in the industry. Be prepared to do rewrites and edits. Don't sell yourself short by grabbing the first deal that comes your way but be realistic about making a living from writing. Writing.ie is a fabulous resource and has a wealth of information - use it.

11. Does character or plot come first for you?

I spend a long time thinking before I start tapping on my key board. I think of my main character's name, then I set about the plot. I get the first draft down but then have to revisit it often because the characters grow and their personalities change the storyline, which can be annoying. You think you're in control as the writer, but you're not really. As the characters come to life, they change the plot!

12. If you ever experience writer's block or if the creative muse is hard to find, what do you do to resolve the situation?

Sometimes it works just to sit and write even if I end up putting the writing into the out-cuts file, as I've named it on my computer. I also meditate, which I find very powerful. Often, I go for a walk, and keep walking (not to Forrest Gump level marathons though!) When walking, often an idea will just hit me, even if I'm thinking about something else. Then I'm rushing to get back to the office to write it down.
---
---