SILVER LININGS PLAYBOOK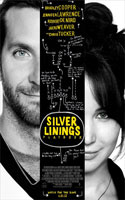 SILVER LININGS PLAYBOOK (2012)
Regardless of its odd title, Silver Linings Playbook is one of my favorite films of the 2013 awards season. Starring heartthrob extraordinaire Bradley Cooper, and Jennifer Lawrence, who played the tough and tender Katniss Everdeen in The Hunger Games, Silver Linings Playbook is an unlikely romantic comedy that tugs at the heart, in the midst of wrenching issues regarding mental health and the lack thereof. With a new lease on life based on his philosophy of always looking for the silver lining, he moves back in with his parents.
Cooper plays Pat, a man recently released from a mental institution, where he was placed because he assaulted his wife's lover when he caught them in bed, making love to his wedding song. Now, with a new lease on life based on his philosophy of always looking for the silver lining, he moves back in with his parents, determined to get a teaching job at the school where he once worked with his wife, by learning the literature curriculum she used to teach, and to get in shape by running every day. But his football-obsessed, OCD father, Pat Sr., played brilliantly by Robert De Niro, and his neurotic, enabling mother, Dolores, acted to perfection by Jacki Weaver, don't exactly provide a calm and healing atmosphere for his recovery. It doesn't help that his parole officer is on his case and things like Hemingway's writing throw Pat into violent fits. In addition, his running regimen has him somehow bumping into his brother's sister-in-law, Tiffany, played by Lawrence, another intense soul plagued by her recent past, whose in-your-face attitude simultaneously intrigues and irritates him. She calls 'em like she sees 'em, even facing off with Pat Sr. (I can't think standing up to De Niro would be an easy task for an actor, but Lawrence doesn't flinch.) She finally manages to rope Pat Jr. into participating in a dance competition in exchange for delivering communications to his ex, Nicky, who has a restraining order issued against him. Ultimately, the dance practice has a healing effect on Tiffany and Pat, and leads to a wild performance which holds much more at stake than just them winning.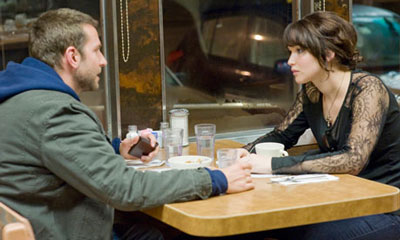 The entire film is one riveting moment after the next. Sometimes funny, sometimes teeth-clenching tense, sometimes sexy, it grabs you from the first moment and never lets you go. Though the romance doesn't kick into full swing until the end, every step along the journey satisfies. If you don't see any other film this season, see this one. I predict Lawrence will win the Academy Award for Best Actress, and you'll see why (she's already swept the other awards shows, so it's not a difficult prediction to make). And though Bradley Cooper may miss out on the Best Actor award to Daniel Day Lewis' Lincoln, he certainly gives the man a run for his money.

Movie reviewed by Georgina Young-Ellis
---
---