SHERYN GEORGE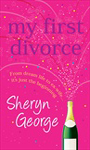 My First Divorce (2008)
On the night of her latest successful program launch, TV producer Caitlin Cooper discovers that her assistant Kennedy has been . . . well . . . assisting her husband, Max. And now Kennedy is pregnant and it looks like mother-of-two Cait is on her way to her first divorce. With her new-age best friend and her over-the-top mother moving in and her creative juices flowing, it seems there's no time for her to just hide out under the doona. This tale of 'from dream life to ex-wife' veers all over the place and, apart from the amusing reaction of Cait's parents to her separation, falls well short of its potential. And don't blink or you'll miss the love interest.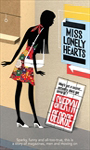 Miss Lonelyhearts (2004)
Meg's best friend, Allison, has a surprise for her for Valentine's Day - she's placed an ad in the singles column under the name Miss Lonelyhearts. Allison is hoping that by dating loads of men, Meg will finally get over her ex, Ben. Meanwhile, Meg's self-esteem takes a dent as her new editor on Gossip! magazine, the icy Monica, demands that she get plastic surgery for a story - and the smarmy Dr Gold seems to find plenty to work with. As the Miss Lonelyhearts replies flood in, Meg actually likes the look of her colleague Nick, who works on a lad mag. If you are expecting a tale of hilarious and disastrous blind dates as Meg narrows the field to one, this isn't that story. Instead it's more about her quirky circle of friends and how she and her colleagues handle their bitchy boss.

---
---