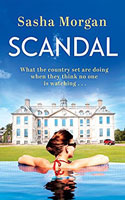 Scandal, by Sasha Morgan, kicks off a new bonkbuster series set around Treweham Hall. The summary says: "As the new custodian of the ancestral home, Treweham Hall, Tobias Cavendish-Blake soon discovers exactly what he's inherited. Instant financial action is needed if the Hall is to survive the mounting debts it's racking up. Adding insult to injury the family is forced to sell the Gate House on the estate to lottery winners Gary and Tracy Belcher - not the kind of neighbours Tobias was hoping for.
Megan Taylor inherits her grandmother's country cottage in the village of Treweham and decides to make a fresh start there, taking a job at the local country pub.
When Megan meets Tobias, the attraction is clear, but she is determined to resist his charms, put off by his reputation and that of his best friends - the rakish Seamus Fox, son of a millionaire race horse trainer and dastardly jockey Dylan Delany. But Tobias is a hard man to resist..." Scandal is out in February 2018.