SARAH MORGAN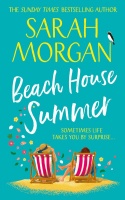 Beach House Summer (2022)
Joanna's ex – celebrity chef Cliff Whitman – has been killed in a car crash. When she hears that a young pregnant woman, Ashley, was in the car with him, she offers her a sanctuary away from the media attention – back in Silver Point, the quiet seaside community Joanna left all those years ago.
With Joanna now forced to face up to her past while desperately avoiding the spotlight, it becomes a question of who is really saving who?
The story did get a bit bogged down at times but overall, an endearing tale of an unlikely alliance and reconnection.

---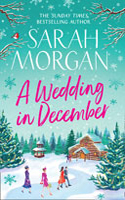 A Wedding in December (2019)
I am always happy when the Queen of Romance has a new book coming out, especially her Christmas novels, because they always take place in amazing locations.
This year, she takes us to Aspen, Colorado, for a beautiful wedding in the snow. But will there be a wedding when the bride is having her doubts, her sister is determined to stop it, and her parents are secretly divorcing?
If you are a fan of Sarah Morgan, you know how good she is at captivating the attention of the reader, and this novel is no exception. With likable characters, an entertaining plot with a few twists, and an atmospheric setting, A Wedding in December is the perfect read to curl up with this festive season. (NP)

---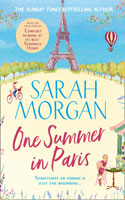 One Summer in Paris (2019)
Sarah Morgan is one of my favourite authors and she is back with a fantastic and heart-warming new novel. Grace and Audrey don't know each other. Forty-something Grace is heartbroken after her husband announces he wants a divorce after twenty-five years of marriage. Audrey is an eighteen-year-old girl just out of school who is looking forward to escaping her troubles at home for a summer of freedom.
What they have in common? Paris, where they are both spending the summer hoping for a new beginning. An improbable meeting leads to a strong and unlikely friendship and the two women spend more time together helping and confiding in each other.
With its evocative descriptions, its engaging characters, its entertaining and captivating plot, you will fall in love with this novel, an absolute must-read for all fans of Sarah Morgan. (NP)

---
The Christmas Sisters (2018)
Suzanne is happy because this year she will have all her three daughters home for Christmas. However, it won't be the perfect Christmas she hoped for. Beth doesn't want to be just a mother and wife anymore and she dreams of going back to work. Hannah is a successful businesswoman but doesn't have much luck in love. Nor does she seem to have a normal relationship with her family.
Posy, who has never left the family home and works in the family business, dreams of leaving her small Scottish village and climbing mountains all over the world. She just needs to find the courage to confess it to her overprotective mother. This year Christmas will be different as these four women face their secrets, their hopes and their dreams.
My first Christmas book of the year couldn't be any other than the new novel by Sarah Morgan. Once again she made me fall in love with her engaging characters, their captivating plots, and the beautiful setting of the Scottish Highlands that it is perfect for this Christmas story. A beautifully romantic and entertaining novel about sisters, family and relationships that will make you dream and wish for an early Christmas. (NP)

---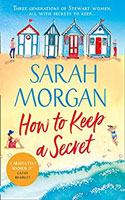 How to Keep a Secret (2018)
Four women from three generations come to life in Sarah Morgan's new novel. After tragedy strikes, Lauren has to leave London to go back home to Martha's Vineyard with her daughter Mack, but she has secrets that she's been keeping from her mother, her daughter, and even her sister Jenna, her closest confident. Jenna has her own problems as she struggles to get pregnant but she can't confide in her mother who always kept her at a distance.
Nancy knows that her daughters, Lauren and Jenna, think that she is not a good mother but everything she did was to protect them but the truth may come out soon. And being a teenager is not the only reason sixteen-year-old Mack has been moody lately. As secrets are revealed these women may finally have the chance to resolve their problems and become a family again.
Once again, Sarah Morgan didn't let me down. I loved the characters, their stories and the setting of Martha's Vineyard is simply magical. Refreshing and entertaining, this novel is this summer must-read! (NP)

---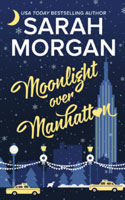 Moonlight Over Manhattan (2017)
Harriet Knight is shy and afraid of confrontation so after Thanksgiving she starts a new challenge by doing the things that scare her most, including online dating. But she is put off after she has to climb out of a restaurant window to escape her creepy blind date.
But then she meets Ethan Black, aka Dr. Hot, who is not put off by her stammering and seems to be genuinely interested in her. And when he asks her to help him take care of his sister's dog, she can't refuse him.
As with all the other books from the Manhattan series, I really loved this book and I am really sad that this is the last one of this series. I am going to miss the characters who are lovable and entertaining. My favourite character in this book is Susan, Ethan's colleague. She is funny and outspoken and I enjoyed her exchanges with Ethan.
It's another fabulous read from one of my favourite authors. A romantic and enjoyable novel to read curled up on the sofa, featuring dogs, snow, hot chocolate, and cookies. If that isn't enough, what is better than Christmas in New York? (NP)

---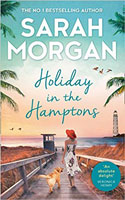 Holiday In The Hamptons (2017)
Fliss and Seth spent their summers together with their families in the Hamptons and belonged to the same group of friends. The night of Fliss' eighteenth birthday, their friendship turned into something more and, after a whirlwind romance, they got married in Vegas. The marriage didn't last long and, both heartbroken, they went their separate ways.
Ten years later, when Fliss, a dog walker, finds out that Seth is working in her local veterinary clinic, she goes to hide in the Hamptons only to bump into him there. As she spends more time with him, Fliss starts wondering what could have happened if things had gone differently between them.
I am obsessed with the From Manhattan with Love series by Sarah Morgan. It features strong and independent women, the stories are compelling and addictive, and the setting of New York, or, in this case, the Hamptons, is atmospheric and romantic. This is the fifth book in the series and it explores not only the relationship between husband and wife, but also between parents and their children, between twins and between sister and brother, between grandparents and grandchildren, and what you would do to protect the people you love most.
I have to say that Fliss and Seth have become my favourite couple in the series and I loved to see how their relationship developed and they learnt to trust each other. I enjoyed reading about the Poker Princesses, a group of octogenarian women who play poker for money, read steamy romance novels and give unsolicited love advice. A captivating and refreshing read that will make you dream of sandy beaches and summer holidays. (NP)

---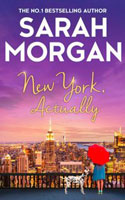 New York, Actually (2017)
Molly writes about love and relationships but her only love is her dog, Valentine. Daniel is one of the best divorce lawyers in New York and he is also one of the most sought-after bachelors in the city. He sees Molly jogging every morning with her dog in the park so in order to meet her, he borrows Brutus - a German shepherd in the care of his sisters who run an animal shelter. Molly isn't interested in love but the more she tries to resist Daniel, the more she feels attracted to him.
Molly and Daniel are completely different from each other but they are perfect together and I enjoyed reading their exchanges and how they fall in love. The relationships with their dogs are a nice bonus and it was funny reading how Daniel trains Brutus and how their relationship evolves although Daniel claims until the end that he is not a dog person.
I am quite addicted to Sarah Morgan's books: romance, laughter, charming characters and the setting of New York's skyline create a perfect story. As with her other books, this is an absorbing and entertaining read. (NP)

---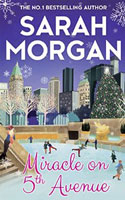 Miracle On 5th Avenue (2016)
The From Manhattan with Love series focuses on three best friends as they struggle with love and career. I really loved the first two books so I was really looking forward to the third one and I wasn't disappointed.
This is the story of Eva and Lucas. Eva is looking for great love, but, while she waits for Price Charming to appear, she'd be happy to just use the condom wasting away in her bag before Christmas. Lucas is a world-famous crime writer who has been holed up in his apartment writing since the death of his wife, trying to avoid contact with the outside world. Suffering from writer's block, he finds inspiration in Eva.
Eva and Lucas are completely different characters: Eva loves fairy tales and happy endings and believes in true love. Lucas is pessimistic, thinks everyone has a dark side, and doesn't believe he deserves love. But they are perfect for each other. I really love Eva's character, she is idealistic and very outspoken ("I'm an audio book, because everything I'm thinking comes out of my mouth") with an optimist view of life and love. The magic atmosphere of Christmas in New York and Eva's delicious dishes are the perfect setting for another brilliant, sassy, and funny read that I couldn't put down. (NP)

---
Sunset in Central Park (2016)
I am a little addicted to Sarah Morgan's From Manhattan With Love series. In this second book, the main characters Frankie and Matt have known each other since they were children. Frankie is Matt's sister's best friend and lives in one of his apartments.
Matt has always been attracted to Frankie but, although they are good friends, she has always kept her distance.
Following her parents' disastrous marriage and seeing her mother hop from man to man, Frankie doesn't believe in love anymore, but she can no longer fight her feelings for Matt.
I have been looking forward to reading this book and I wasn't disappointed. Enjoyable and romantic, it's a real page-turner. Now I am impatiently waiting for the third book ...(NP)

---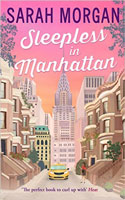 Sleepless in Manhattan (2016)
Childhood best friends Paige, Frankie and Eva all live and work together for one of the most important event planning companies in Manhattan. Until, on the day that Paige thought she was getting a promotion, they all get fired. So they decide to start up their own company and ask the help of Jake, the man Paige has been in love with since she was a teenager and her brother's best friend.
When Paige was little she had a serious heart condition and grew up surrounded by her overprotective parents and brother so now she fights to be independent and make her own decisions. But it is not easy when she has to spend a lot of time with the only man who really broke her heart. Jake's birth mother left him when he was six and he now considers his real mother the woman who raised him.
The billionaire spends his time working in his company, having no more than one date with hot women, and playing videogames with his best friend Matt - all while trying to stay at a distance from the only woman he really ever cared about, Matt's little sister, Paige.
This is a romantic and gripping novel that I read in one day. Sleepless in Manhattan is a real page-turner and I was happy to learn that it is part of a trilogy. Looking forward to book two! (NP)

---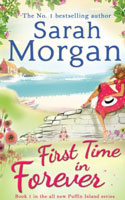 First Time in Forever (2015)
Emily likes to be firmly in control of her life and has both a sensible job and wardrobe. However when her half sister, a well-known Hollywood actress, is killed she finds herself in sole charge of her six-year-old niece, Lizzie. Emily takes refuge on Puffin Island, which she hopes will be a safe haven away from the prying eyes of the press.
This idyllic island appears to be the perfect place for Emily to work out what to do with her life now, except she is terrified of bringing up a child and the closeness of the sea brings back painful memories for her.
She meets Ryan, a successful local businessman, who has been asked by her best friend to keep an eye on her, but finds that the instant attraction he has for Emily makes this request much easier. Can he overcome his own demons and the fact that he is happy being a single footloose man?
This was a light, enjoyable read. I found the characters a bit lightweight for me, particularly with Ryan as the alpha male who had the ability to make any female swoon. I sometimes felt with the style of writing that I had regressed to being a teenage girl again, picking up one of my aunt's romantic novels; a few of the phrases and descriptions made me cringe a little! It isn't a book that takes itself too seriously and is worth a read on the beach. (EH)

---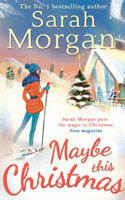 Maybe This Christmas (2014)
The third novel in the Snow Crystal trilogy is set in Vermont and all the action takes place over one magical snowy Christmastide at the family resort. The story centres around downhill ski champion Tyler O'Neil and his best friend Brenna and explores their lifelong friendship. Tyler and his daughter Jess are looking forward to their first Christmas in the lodge since she has come to live with her father.
Ski instructress Brenna, who has secretly been in love with Tyler for years, returns to work for the family she has known all her life and whose business is under threat. As Christmas approaches, her ski lodge is rented out to a member of the public and she joins Tyler and Jess in their spacious home. Attraction fizzes between them until finally a Christmas kiss awakens dormant feelings.
This is a lovely Christmas read with family issues at the forefront and romance blooming in the air. It's perfect for snuggling up with and getting you in the Christmas spirit. I thoroughly enjoyed it even though I had not read the first two books. The ending is just like a fairy tale and is sure to melt your heart. (JH)

---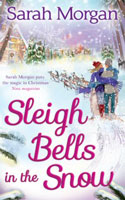 Sleigh Bells In The Snow (2013)
Kayla Green is very good at her PR job and she spends all her waking time at it and has no time for a social life. While her colleagues celebrate the lead-up to Christmas, Kayla is dreading it because Christmas means family - and her family is not her favourite topic. So she looks forward to spending the festive season away from everyone, in a secluded cabin in Vermont, where she will spend her time working to promote a family resort.
The only problem is the handsome owner of the resort, Jackson O'Neill, and his overwhelming and loving family. Suddenly Kayla finds herself doing things she never imagined doing and having feelings she never thought she would feel.
Whenever I pick up a novel by Sarah Morgan, I know I will enjoy it and this novel proved it once again. I love her writing and her characters and her plots are addictive and very romantic. The snowy setting of this novel is magical and Christmassy and I suggest you read it curled up on the sofa while drinking hot chocolate. (NP)

---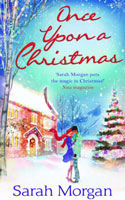 Once Upon a Christmas (2012)
This book - two stories entwined into one - well and truly put me in the Christmas mood. Bryony asks her daughter, Lizzie, to write a Christmas list. When she asks Lizzie what is on the list, Bryony is extremely surprised to learn that Lizzie has asked Santa for a dad.
With only a month until Christmas and not wanting to upset her daughter, Bryony goes on the hunt for Mr Right but will Lizzie be disappointed on Christmas morning? The second story involves Bryony's best friend, Helen, and Bryony's brother, Oliver. Helen has just had her wedding day cancelled so Oliver steps in and looks after his sister's best friend while she is away. The story between Oliver and Helen is very predictable but overall this is a happy read with a happy ending. (SG)

---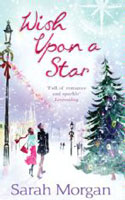 Wish Upon A Star (2011)
This contains two stories both set in the Lakes District. The first is Christy and Alessandro's tale. A few months earlier, Christy was fed up and decided to up and leave with her children to stay with her brother Pete in London. Expecting husband Alessandro to come chasing her, she stayed but alas he never came. Angry, she thinks he doesn't want to save their marriage but when her two children Kate and Ben want to go home for Christmas, Christy tags along. Kate and Ben have only one wish - to get their parents back together.
The second story is about Miranda and Jake. Jake has always been seen as a ladies man, with a different girl each week. But he has only ever loved one women - Christy, the wife of his best friend Alessandro. One day when working with the mountain rescue team he comes across Miranda who has slipped during a climb. Jake feels an instant connection with her, but unfortunately every time he tries to get close, Miranda pushes him away.
For a relationship to work, one must rely on complete honesty but can the pair of them face what's holding them back in order to move on? When Miranda can't hide her dark secret anymore about her past relationship history, will Jake stand by her and prove to her that their connection is unbreakable or will he too be running for the mountains? Wish upon a Star is all about second chances, relationship do's and don'ts and the Christmas spirit. (PP)