SARAH MAY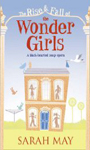 The Rise and Fall of the Wonder Girls (2009)
This black comedy opens with a group of school friends heading off to pick fruit. The girls - Vicky, Saskia, Ruth and head girl Grace - all attend Burwood Girls' school, in an affluent town known as a good place to live, with its low teen pregnancy rates and high life expectancy. Soon all four girls realise they are pregnant and the media descends on the town, wondering if they are part of a cult or all impregnated by the same man. This was an unexpectedly good book, even though I had trouble remembering which character was which. The mixed-bag of parents add some more interest, including Vicky's social climbing mother Sylvia; Ruth's mother Rachel who is desperate to have another baby; and Saskia's drunken, cocaine-addicted father Richard. It recalls the real life story of an American media storm over a pregnancy pact at a Massachusetts high school where 17 girls fell pregnant at the same time.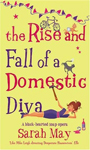 The Rise and Fall of a Domestic Diva (2008)
The mothers of Prendergast Road, in south London, are waiting desperately to find out if their four-year-olds have won a coveted place at St Anthony's. When Kate gets the letter saying her son Findlay hasn't been accepted, despite them attending church nearly every Sunday, she tells everyone that he is in, in the hope that she can instead buy a house within the catchment area. All the other children have got a place - or have they? So preoccupied are these parents that they often forget to pick up their children from activities and leave babies screaming in their car seats. Nor do they take much notice of weird goings-on on the street, from Lithuanian prostitutes pleading for help, to one of their own scoring from the local drug dealer or their husbands' obsessions with the neighbours. Promoted as a "black-hearted soap opera", this book has a lot of drama going on but it finishes without a conclusive or satisfactory ending.

---
Also by author:


The Missing Marriage


The Rise and Fall of the Queen of Suburbia

---