SARAH MASON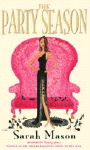 The Party Season (2003)
Party planner Isabel Serranti is booked to do a charity ball at Pantiles, the Monkwell estate where her family lived when she was a child. Isabel is just hoping to keep far away from Simon Monkwell, now a successful entrepreneur, who had bullied her when they were in their teens. Press coverage suggests he hasn't changed a bit, but Isabel soon finds that things aren't quite as she remembers.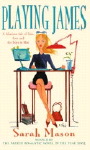 Playing James (2002)
Budding reporter Holly Colshannon is determined to make her mark when she�s assigned to the crime round at the Bristol Gazette. Set to write a daily column about life on the beat, she is partnered with Detective James Sabine, who is certainly not keen to be shadowed by a reporter � especially one who is no stranger to the casualty department. But at least he only has to put up with her for six weeks until he marries his society bride. As the pair investigates a series of antique thefts, the bickering soon develops into a close bond. Will the loveable reporter get her man? The scenarios may not exactly mirror real life (what regional newspaper has the resources to send one reporter off like that for a month?) but the laugh-out-loud moments are certainly real enough.

---
Also by author:


High Society

---