SANDRA BYRD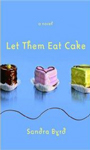 Let Them Eat Cake (2007)
Francophile college graduate Lexi Stuart has just lost another office job and is back home living with her parents. So when she lands a job at a French cafe, run by flirty Frenchman Luc, she hopes to transform her low-paying counter job into the assistant manager's position. She begins enthusiastically learning all facets of the business, but things don't get off to a great start when she leaves a fridge open and messes up a big order placed by good-looking lawyer Dan. From the Christian lit stable, there's also a sub-plot about Lexi trying to find a home church.

Did you know? You can actually check out Lexi's (aka Simply American) recipes on the allrecipes.com website.
Bon Appetit (2008)
This sequel to Let Them Eat Cake sees Lexi moving to France to study at a pastry school, sponsored by Luc's family. She also works in the family bakeries, where she discovers many of the locals are somewhat crusty. But she soon discovers a softer side to pastry chef Patricia, and also attends an English-language church with Luc's attractive cousin, widower Philippe and his daughter Celine. Meanwhile one of her classmates, Desiree, who is from a prestigious baking family, seems to be sabotaging everyone's efforts. Will Lexi pass the course and if so, will she stay in France or return to Seattle and Dan?

---
Also by author:


Piece de Resistance

---