SAM BAKER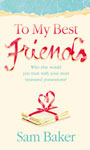 To My Best Friends (2011)
Fashionista Nicci is dying of cancer, and writes her three best friends a letter, each bequeathing them something precious of hers. To her business partner Jo, she asks that she care for her twin daughters. To single Mona, she leaves her husband David and to Lizzie, whose husband Nicci never approved of, she leaves her garden. The three friends are all surprised by Nicci's requests - Jo is trying to have a baby of her own and already has stepchildren; Mona is secretly seeing a married man and has never been interested in David; and Lizzie hardly has a green thumb and is already tied up with visiting her ailing mother. As the friends meet up to sort through Nicci's extensive wardrobe, her requests start to have effect on their lives in unexpected ways. This will suit if you're looking for a heart-warming novel about friendship and moving on after loss. But it was a bit too slow moving and then wrapped up too nicely for me.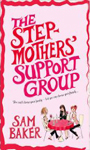 The Stepmothers' Support Group (2009)
Magazine journalist Eve fell in love with widower Ian after writing an article about his wife's battle with cancer. Now as their relationship gets more serious, she must try to fit in with family life that revolves around his three children in a house that still bears the marks (and gumboots) of his late wife. Her best friend Clare, a schoolteacher and single mum to teenager Louisa, suggests that Eve talk it over with her younger sister Lily, who is also dating someone with a child. Soon their informal Stepmothers' Support Group grows to include Melanie, an American fashion web entrepreneur who is preparing to meet her boyfriend's daughter for the first time, and Mandy, who is blending together a large family. As Eve struggles to get along with Ian's teenage daughter Hannah, Clare faces up to the unwelcome return of Louisa's father. Exposing lots of relationship pitfalls, this book (written by a real life stepmother) gives an honest, open take from the not-so-wicked stepmother's point of view - and is a refreshingly different slant on the usual mum lit.

---
Also by author:


Fashion Victim



This Year's Model

---