SAFETY NOT GUARANTEED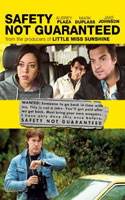 SAFETY NOT GUARANTEED (2012)
I want to share with you an oddly romantic little film I recently saw on Netflix. I don't know how this 2012 gem slipped by me before, since it's about time-travel and I'm interested in all things time-travel related. Yet you don't have to be a nerd-girl to love it. It's called Safety Not Guaranteed, and it stars a slew of American TV actors who, in this film, certainly earn their place on the big screen. They include Aubrey Plaza of the American version of The Office, Mark Duplass from The Mindy Project, and Jake Johnson, unlikely charmer from Zooey Deschanel's New Girl. As a matter of fact, the only real film star in it, appearing briefly, is Kristen Bell, of Forgetting Sarah Marshall.
What's beautiful about the story is that we are rooting for Kenneth and Darius' success, even as we're convinced he's a crackpot. Safety Not Guaranteed is about a magazine writer and two interns who set off to investigate a personal ad which calls for someone willing to volunteer for a dangerous time-travel mission. Thinking it has to be a joke, Johnson's character, Jeff, agrees to cover the assignment, but only so he can hook up with an old girlfriend in the town where the personal ad originated. He brings Darius (Plaza), who goes to get away from being the office go-fer, and they drag along Arnau, a shy, East Indian intern played by Karan Soni. This unlikely team tracks down the man who placed the ad, a 30-something schlub named Kenneth, played by Duplass. Darius, being the more-or-less attractive woman of the group, is elected to approach him. She convinces him of her dedication to his project though he seems like nothing more than a deluded weirdo. He's certain the government is following him, thinks he's an expert in martial arts, and is supposedly building a time machine to take him to the year 2001 in order to correct a tragic mistake. Darius plays along, telling him that if she could go back to 2001, she would stop her mother from being killed in a gas station robbery. Sadly, that is her reality. As she goes along with Kenneth's strange "training" methods, she begins to see him as an interesting and sensitive figure and becomes pulled into his reality. Jeff, in the meantime, essentially uninterested in the assignment, focuses his attentions on the girl from his past, and Arnau is simply at everyone's beck and call.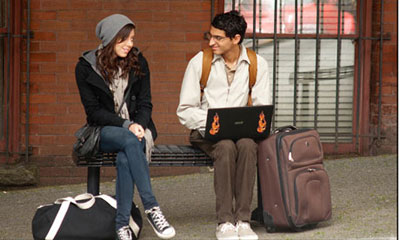 What's beautiful about the story is that we are rooting for Kenneth and Darius' success, even as we're convinced he's a crackpot, and worry that Darius is being taken in by him and getting involved with activities both ridiculous and subversive. Everyone in the story seems like a loser on the surface. Yet the satisfying ending turns that idea on its head. My husband and I actually cheered out loud at the climax of the film. This is a sweet, funny, and very quirky tale that has a surprisingly tender quality. Whether you find it on DVD or as a download, do seek it out. It will leave you with a smile on your face.

Movie reviewed by Georgina Young-Ellis
---
---