RUTH SABERTON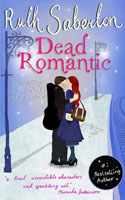 Dead Romantic (2014)
This is a charming and entertaining story about a woman named Cleo Carpenter who discovers after a head injury that there is much more to life than her work as an Egyptologist. The arrival of the ghost of deceased rock star Alex Thorne forces Cleo not only to reevaluate her priorities in life, but also to question her sanity. Alex is determined to enlist Cleo's help in helping his brother, Rafe, climb out of his pit of self-destruction since Alex's death. Never mind that Alex believes Cleo and Rafe are destined for one another and hopes that bringing these two together will benefit more than just Rafe. Cleo, Alex and Rafe are wonderful characters that I quickly liked - I am sure they would be a lot of fun to hang out with. So many times I wished Alex wasn't a ghost because it was so tragic that someone so vibrant with love, life and energy was dead. Cleo was great as a sceptic of the paranormal and I really enjoyed seeing the numerous ghosts reaching out to her trying to communicate. I found the background story of Cleo's work and her research into the death of a boy Pharaoh very interesting and the workplace sabotage and rivalry was intriguing. The story moves at an excellent pace and I was on pins and needles with anticipation of what would happen next. Though this book has a Christmas setting, I highly recommend reading it anytime of the year. I am now a fan of Ruth Saberton's work and look forward to reading more from her. (SH)

---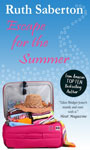 Escape for the Summer (2014)
Sensible Andi gets a shock when she finds out that her bank account has been cleared out by her boyfriend. She is further shocked when she arrives home to find him in bed with the neighbour. Add to this that she has just been let go from work. When her wild sister Angel and friend Gemma hatch a plan to escape for the summer to the seaside town of Rock, playground for the rich and famous, she decides to tag along. Things can only get better once you've hit rock bottom, right? Angel was my favourite character. Despite initially coming across as shallow and manipulative, she grows a lot throughout the course of the novel and I feel she redeems herself. Gemma was a loveable girl and her tumultuous relationship with food is very relatable. I enjoyed seeing her friendship with Cal blossom. Andi I found to be the most difficult to warm to. Her relationship with Jonty helped her to open up a little and that made her a much more likeable character. It took me awhile to get invested in the story, but once I did I enjoyed it, the plot was action packed but I had guessed the twist towards the end from quite early on. (LO)

---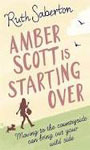 Amber Scott is Starting Over (2012)
Amber Scott has just secured her dream job at Senora magazine. She can't wait to tell her fiance Ed, but she can't seem to get hold of him. Never mind - she will just book a table at his favourite restaurant. When she turns up at its door she discovers it was turned into a trendy boutique six months ago. Didn't Ed say that he took some clients there only a couple of weeks ago?! As Amber finally sits down with Ed to break her great news to him, he beats her to it, revealing that he has taken a job at a law firm in Cornwall. Amber is shocked that Ed didn't even think to ask her how she felt about a move, but he insists he is doing it for their future and that the move could be a new start for them. Once down in Cornwall, little seems to change in Amber and Ed's stale relationship, and with Ed working all hours under the sun, Amber is left to adjust to her new life. A local, reminiscent of Heathcliff, isn't making the transition easy. Throw in a key-eating dog, an escapist goat, a Lothario vet, a fun-loving lady of the manor, an enigmatic lord of the manor with a mysterious past and a new age mother and her spirit guide and Amber's peaceful country life becomes anything but. Although Amber's naivety and loyalty to the despicable Ed may seem feeble and incorrigible, I found the plot shed light on the very real issue of the disastrous and self-defeating lengths women go to please their partners. Generally, there is plenty of humour in this novel and aside from the odd dashes of hocus pocus that did not seem to add much to the novel, the book is well-written and engaging. Ruth Saberton certainly seems to have mastered the chick lit formula in this book. (JC)

---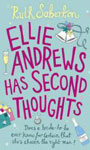 Ellie Andrews Has Second Thoughts (2011)
It's Ellie's wedding day but she's having more than last-minute jitters. As she squeezes herself into her gown and downs too many glasses of champagne to settle her nerves, she reflects back on her last few boyfriends as she wonders whether she's marrying the right man. There's Rupert, her double-barrel-name boss, and Jay, her best friend's brother who she's had a crush on since she was a teenager. Ellie literally crashes into the life of the very eligible Marcus while Xander is the rock star who lives next door to her sister. Ellie's four sisters - known as the Amazing Andrews - have all paraded down the aisle and Ellie is feeling the pressure to settle down too, particularly to make her mother proud. With readers left to wonder which of the men is actually waiting at the church for Ellie, the story goes into flashback mode as Ellie lurches from one disaster to another - from environmental protests and model rivals, to babysitting the kids from hell; and a Hawaiian holiday. No need for you to be having second thoughts about picking this one up - it's got a delightful heroine, laugh-out-loud scenarios and it'll keep you guessing about not only the groom but whether Ellie will actually take the plunge.

---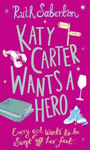 Katy Carter Wants a Hero (2010)
High school teacher Katy dreams of being a bestselling novelist, working on her historical romance about a highwayman whenever she can. But her own romantic happily ever after comes to a grinding halt when she is forced to play host to her ambitious fiance James' colleagues. The resulting dinner party fiasco makes Bridget Jones' blue soup incident look quite tame. After James dumps her, Katy heads to stay with her friend, the vicar's wife, in Cornwall. There she bumps into a famous romantic hero, Gabriel Winters, who's in town to shoot a movie. When the dreamy actor makes Katy an offer she can hardly refuse, Katy's life becomes more dramatic than even her imagination could have dreamt up. Definitely one of 2010's funniest stories, with Katy Carter the sort of chick lit heroine we've all been waiting for.