ROSIE NIXON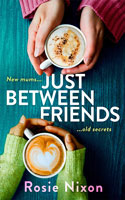 Just Between Friends (2020)
This story centres around the members of a prenatal club who continue to meet up after their babies are born. Alisha was worried at first about her husband, Jason, but he is now embracing his new fatherhood role. Lucy also has her concerns about partner Oscar because he had always been forthright about not wanting any more kids.
Alisha and Lucy hit it off and become confidants but there's something that Lucy's not sharing.
It felt like the author kept hitting us over the head with hints about Lucy's secret and I would have preferred a much subtler approach. However, the interactions between the new parents and the witty writing made up for it.

---
The Stylist (2016)
Amber gets an unexpected chance of a lifetime when uber-stylist Mona Armstrong swans into her London boutique and, impressed by her window dressing, hires her to replace the assistant who just quit. Amber is soon jetting her way to Los Angeles for awards season, with a film crew also capturing footage for a reality TV show called The Stylist based around Mona's life. But life with Mona is hardly easy and Amber finds herself juggling too many balls, picking up the pieces - and minding a pig.
This is a thoroughly entertaining read that will appeal to those who like immersing themselves in the fashion and celebrity worlds. With a pacy plot, an engaging leading lady, a diva boss, and plenty of machinations and shenanigans, this is an impressive debut ripe for a sequel.