ROSE HARTLEY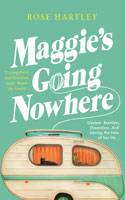 Maggie's Going Nowhere (2020)
Maggie's not exactly setting the world on fire - she's been doing the same business degree for 10 years and still lives at home with her mum. When she sabotages yet another relationship and blows her final cash handout on an old caravan, her mum tells her that she's had enough. She has to stand on her own two feet or she'll be cut out of her will.
So Maggie moves into the caravan, even though it doesn't have electricity or a bathroom, and begins volunteering at a charity to earn her unemployment benefit.
What a totally refreshing read! I really liked Maggie - even though she should drive you crazy. She stuffs up her life on every level but there is something so endearing about her. It all makes for a delightful debut from a new Aussie voice.