ROISIN MEANEY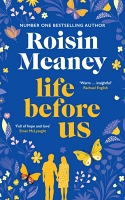 Life Before Us (2022)
When receptionist Alice finds out her boyfriend is married, she takes up her aunt Kate's kind offer to leave Dublin behind, and return to her hometown. Kate provides her with some shifts at her Italian restaurant and a place to stay in her garage apartment. To thank her, Alice takes on the job of looking after the chickens and delivering eggs each week to a guy called George.
George, a teacher, shares custody of his daughter Suzi but is often lonely. So he is on the lookout for a tenant and may even consider online dating.
I really loved how Alice and George nearly met but didn't through most of the story, with the author building in some delightful near-misses and coincidences. A read to cheer you up.

---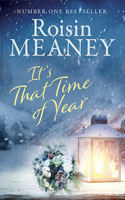 It's That Time of Year (2020)
At age 60, Annie is getting married to the steadfast Matt and has invited three of her foster children to attend her winter wedding in Ireland. Julia is now a world-famous singer based in France who is secretly dating a married man. Eddie is a chef in London who hasn't quite realised his dreams yet and Steph may reside on a sunny Greek isle but her life is far from idyllic.
Told with flashbacks to Annie's earlier life and plenty of emotional revelations, this is a truly heartwarming reunion story for the festive season.

---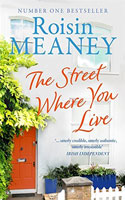 The Street Where You Live (2017)
An Irish community choir is about to perform its end-of-summer concert but one of its singers, Jane, hasn't turned up. The story then backtracks six weeks and introduces us to a raft of characters.
Choir leader Christopher is a somewhat grumpy character, who doesn't get off on the right foot with his new next-door-neighbour, an American woman named Freddie, when her young daughter comes calling in his yard. House cleaner Molly sees a young boy who she thinks may be her grandson and wonders if this is why her son Philip disappeared without a word to New Zealand five years ago. Meanwhile her daughter, Emily, can't believe her mother wants to set her up with handyman Clem.
This engaging book covers several storylines and although the transitions between the different characters sometimes wasn't so smooth, the connection between them all was cleverly plotted.

---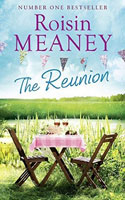 The Reunion (2016)
Two Irish sisters have received an invitation to their twenty-year school reunion but neither are keen to go. Eleanor has lost her mojo – having put on heaps of weight and her family life is strained.
Her older sister, Caroline, would be considered quite the success – she is now a fashion designer, who is dating a much younger Italian man, but she has no wish to revisit the past.
The story then tracks back to the early 1990s, and reveals what happened to high-achiever Caroline that meant her final year of school had to be delayed and the tragedy that rocked Eleanor's world.
This is a very engaging, highly emotive story that will appeal to those who like reading stories about family secrets.

---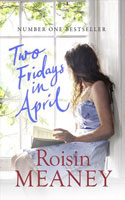 Two Fridays in April (2015)
It is the one-year anniversary of the death of Finn Darling, and his daughter Una's seventeenth birthday. Finn's widow, Daphne, is struggling with her grief, but tries to put on a brave face and arranges a birthday dinner for her stepdaughter Una and mother-in-law Mo. Daphne and her own mother Isobel have a strained relationship as a result of Isobel walking out years before, and Daphne is having trouble maintaining a close relationship with her stepdaughter.
When Una doesn't show up for the dinner, Daphne, Mo and Isobel are thrown together in panic, but soon they begin to realise that life is still for living despite the hurt they've been through.
This is a superbly written book - I loved how the story highlighted how much one man's death can affect the people left behind. The story is told from the alternating perspectives of the four ladies, and I liked how certain imagery linked all of their stories together without too much repetitive overlap. Daphne is a very likeable character, her love for Finn is evident throughout. Una is also a very admirable girl, despite her naivety at times, she inspires the others to move on from the things that are holding them back. A great read. (LO)

---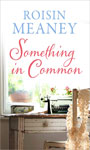 Something in Common (2013)
On her way back from a job interview, Sarah meets Helen. They soon part ways, without knowing each other's names. Later, journalist Helen writes a scathing book review in a newspaper, and aspiring author Sarah writes to her to complain about the harshness of the critique. Without being aware that they have met in the past, they begin a correspondence that leads to a friendship spanning two decades.
This book really blew me away. My interest was instantly captured by the initial meeting on the bridge, and the way in which the two seemingly incompatible characters develop their relationship from strangers to friends was extremely well written and thought out.
It was a highly original idea for a novel, and it was well planned with plenty of plot twists throughout to keep you engaged right until the unexpected ending. This is the first book I have read by this author, and I was hugely impressed. I would highly recommend this one. (LO)

---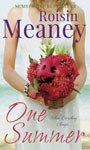 One Summer (2012)
Nell is getting married next December, on her birthday. To help pay for the wedding, she rents out her cottage to holidaymakers visiting the Irish island of Roone. She moves into a small room off her hair salon above the local pub. It will be a squeeze but it's only for six weeks and her fiance Tim only visits from Dublin on weekends.
But as summer unfolds and her three lots of tenants arrive, there are many changes in store for the islanders.
Full of endearing characters, this story offers a lovely take on island life. It's written with very short scenes which keeps the story moving but sometimes the reader doesn't have any idea who is talking until halfway through the conversation. Sometimes this works as a useful plot device, other times it is plain confusing. But all in all, it's a heartwarming story that's well worth a read.

---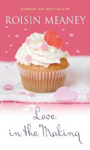 Love in the Making (2010)
aka Semi-Sweet
Hannah is just heading off for a celebratory dinner when boyfriend Patrick announces he's leaving her for another woman. Luckily she's kept busy opening her new shop, Cupcakes on the Corner, and getting up early to bake and ice her stock. Meanwhile a friend of her mother's, Alice, is growing increasingly concerned that her husband Tom's drinking is getting out of hand.
Read it for the delightful way the characters' lives intertwine - from the way Hannah inadvertently introduces her boyfriend to his new love; to her best friend Adam's pursuit of a shy musician; and the way a taxi driver comes in and out of all their lives.