RENEE CARLINO
Wish You Were Here (2017)
Twenty-something Charlotte has never settled down, trying out a number of career paths and is currently working as a waitress in a dump of a restaurant. One night, she bumps into Adam and they form an immediate connection. She loves that he seems such a free spirit after quitting as a lawyer to pursue painting. But after an intense night together, he blanks her and she thinks he just wasn't into her. But as months go by and her life moves on, Charlotte can't seem to forget Adam.
Carlino always creates the most wonderful, emotionally charged relationships, reeling you in until you are so invested in what happens that you keep turning the pages into the night. She totally had me in her thrall but then the second half arrived. While heart-wrenching and romantic (and makes me seem heartless for not loving it), it did seem a somewhat forced plotline and I was cheering on a completely different relationship.

---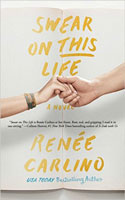 Swear on this Life (2016)
Aspiring writer Emiline is miffed when she discovers a bestselling book has been written by her childhood friend Jase – and it's all about the tough times they faced growing up in Ohio, told from her perspective. She had an alcoholic father, he had a drug addict for a mum. Money was tight and often they had nothing to eat. But together these two neglected teens looked out for one another and forged a seemingly unbreakable bond.
Told in alternating chapters between Emi's life now, and revealing the past through chapters from his book, this is a story that will leave its mark. Not only are you drawn into the engrossing tale of a very dark childhood, you will also want to find out why Emi and Jase are no longer in touch with one another and how his book - and their real-life story - will resolve. Swear you won't be able to put it down!

---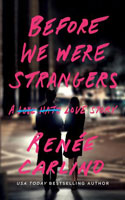 Before We Were Strangers (2015)
After Matt spots his former girlfriend, Grace, getting on a New York subway train, he posts a missed connections ad to his "green-eyed lovebird". The story then returns to 15 years earlier, when photography student Matt and cello player Grace live next door to one another in college dorms. They become fast friends, and over time, their relationship turns into more. But then Matt gets an internship opportunity of a lifetime in South America and Grace is being urged to join in a lengthy European music tour. What happens to them and why have they lost contact with one another?
Much of this story is set back in Matt and Grace's college days, sandwiched between their older years - offering up not only the first New Adult romance I've actually enjoyed but also the bonus extra of exploring one of my favourite themes - reconnecting with a lost love. I have no intention of letting this author remain a stranger to my book pile - since this is definitely among my favourite books of the year. Absolutely sublime! (PS To any producers out there, this would make a fantastic movie.)