REBECCA FREEBORN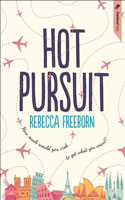 Hot Pursuit (2018)
Sarah writes a beauty column for a gossip magazine but she really wants to make her name as a journalist. She finally gets a chance to step up when she bumps into a Scottish rock musician called Chris Ford, who appears to have gone on the run after the disappearance of a bandmate.
With the backing of her reluctant editor, Sarah teams up with photographer Nick, the best friend of her ex, and heads off to Barcelona, hot on Chris' tail. But she soon finds herself out of her depth and in danger.
Sarah is a feisty but comically naive character who trades barbs with her love interest, Nick, but there were too many suspend-your-disbelief, roll-your-eye moments for me.