INTERVIEW
August 2009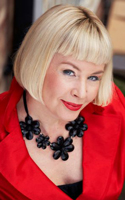 Rebecca Farnworth's first novel Valentine was released this year. She is also a ghostwriter, penning the words for celebrities such as Katie Price. She lives in Brighton with her husband and three children. (Interview by Karen Cummings)
1. Are you happy with the early reviews for Valentine?

I am really thrilled with the reviews which got the humour and warmth of Valentine. The characters were in my head for a long time and it was wonderful when other people loved them too. I have to confess I cried when I read a great review on Amazon! What a baby! But in my defence writing is such a solitary activity, and when someone likes your work it shows that all those hours spent agonising at the computer were not in vain.

2. What is it about your heroine that will appeal to readers?

I think Valentine Fleming is a woman many readers will identify with. She is passionate, funny, feisty and warm. At times she is impulsive and jumps to the wrong conclusions. She makes mistakes but I think she gets the important things right. She is not too good to be true - her battles with her love life, weight and career are things that so many women go through.

3. Why did you choose to base Jack on actor Josh Hartnett?

It was more for his looks than his personality as unluckily for me I have never met the lovely Josh, only in my imagination... I wanted Jack to be both vulnerable and strong and Josh's dark brooding looks seem to convey those qualities perfectly.

4. Like Valentine, have you ever harboured a desire to be an actress?

Briefly aged 15 when I played an Italian contessa in a musical! I am so glad I didn't pursue it: 1) I don't think I've got the talent and 2) I could never have coped with the rejection.

5. Do you have anything else in common with Valentine, besides a peanut butter addiction?

The value she puts on female friendship. I have got some brilliant female friends and their friendship means so much to me and has seen me through so many highs and lows! I also love Valentine's favourite film, The English Patient, and lived in Westbourne Park, West London, where the novel is set, in my late 20s.

6. How did you get into ghostwriting?

Really it was one of those right place, right time moments. I had always wanted to be a writer but I had never in a million years imagined that I would get my big break as a ghostwriter. I had been working as a radio producer and a features journalist and I was interviewed by a literary agent who was looking for a writer for a celebrity autobiography and luckily for me I got the job!

7. Which celebrity would you most like to ghostwrite for?

I'm sure Angelina Jolie would be a riveting subject! And maybe I could get to hang out with Brad.

8. What did it feel like to see your own name on the cover for the first time?

It was a brilliant feeling. I am enormously proud of the books I have ghostwritten but nothing beats seeing your own name up there!

9. Tell us about your next novel.

It's about a comedy agent called Carmen (title tbc) who wants to be a writer and who is torn between sexy but acerbic Will, and beautiful, hot single dad Daniel. There will be lots of humour, emotional baggage, ex wives, and secrets...

10. Do you enjoy the promotional side of things, such as public readings and signings? If so, which has been your most enjoyable experience so far?

As this is my first novel I am brand new to the promotional side and was slightly dreading it! But actually I've really enjoyed meeting people who've read the book and being interviewed on the radio about Valentine.

11. What's the best book you've read this year and which book are you most looking forward to reading?

I loved Marian Keyes' This Charming Man. As with all her books I found it both incredibly moving in places and very funny. Marian is a bit of a heroine of mine. I am really looking forward to reading Sarah Waters' The Little Stranger - I've read all her books and loved them all.

12. Which book do you wish you'd written?

I adore Janet Evanovich's Stephanie Plum series. They are comedy thrillers with a brilliant sense of place, and characters. I particularly love her two male heroes, Ranger and Morelli, who are like a masterclass in creating sexy heroes! And overall the books are a fantastic pick-me-up. When I was pregnant with my twin girls and feeling particularly anxious I re-read the entire series and it temporarily stopped me obsessing, so thank you Janet!

13. What advice would you give to aspiring writers?

I'll go for a top three:

1. Don't just talk about writing, get on with it!
2. Do a creative writing course. It's a really good discipline of writing every week and of getting constructive criticism and it was fun meeting other people - writing can be lonely!
3. Don't give up. I wrote for years without a thought of getting published just because I love writing stories and creating characters.

14. When you're not writing, what else do you enjoy doing? What are your other passions in life?

Hanging out with my three children by the sea in Brighton, well I am hanging out - they are scooting at high speed! I love going to the cinema, eating out with friends, running (very slowly and not after dinner obviously), planning fantasy trips to New York...
---
---