RACHEL MARKS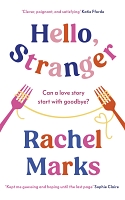 Hello, Stranger (2022)
Lucy is leaving her fiance Jamie and their new home to temporarily move in with her sister. The story then backtracks to Lucy and Jamie meeting on a set-up date sharing a breakfast of croissants. They click instantly and forge a deep bond, leaving readers to wonder what went wrong.
As the narrative switches back and forth from the time of their break-up to the journey of their relationship, both sides of the story are told.
The ending to this heartbreaking tale was so satisfyingly handled – and made what was sometimes a slowly paced read a winner.

---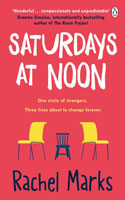 Saturdays at Noon (2020)
Emily doesn't need to go to anger management, or at least so she says. And Jake is only there because his wife pushed him into it. They're two perfect strangers who meet in the most imperfect of situations and from the get-go they rub each other up the wrong way. Emily thinks Jake is arrogant and pompous; Jake thinks Emily is spiky and defensive.
Unfortunately for them, Jake's six-year-old son, Alfie, who has struggles of his own, befriends Emily and decides she can be his nanny. Jake's in something of a predicament and doesn't have much choice and Emily's not much better off but does already adore Alfie. It's a match that's going to change all of their lives.
When it comes to summing up this book, it's a case of there simply not being enough superlatives. Of the many superb books I've read, a handful truly standout, and this is one of them. It has, as they say, 'all of the feels' and a special ability not only to move the reader to both laughter and tears, but to create laughter within the tears and tears within the laughter.
At the centre of this, admittedly, is Alfie, who feels so real and authentic, it's hard to believe he doesn't exist outside of this book, and who readers can't help but adore. Emily and Jake are, of course, the protagonists, but, in truth, it's Alfie who steals the show and the reader's heart.
Author Rachel Marks has crafted a beautiful, beautiful book that utterly overrules the 'debut' tag and introduces a clearly natural and talented writer. If it wasn't for the fact I wanted to give Jake a good shake at the start of the novel, I'd give this a perfect 10, but Jake is intended precisely to be imperfect, so really my frustration at him only serves to prove the author does her job to perfection! So I think a deserved 9.5 is in order for a book which is one of those rare finds that achieves everything it intends and makes the reader experience every emotion, for better or worse, on every page. (JC)