INTERVIEW
March 2014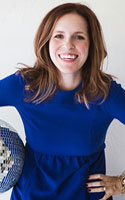 Rachel Hollis is the founder of lifestyle website www.thechicsite.com and Los Angeles-based event planning firm Chic Events. At 27, she was named by Inc. Magazine as one of its Top 30 Entrepreneurs under 30. She lives in Los Angeles with her husband and three children. Party Girl is her debut novel. (Interview by Jody Hoekstra)
1. Tell us about your novel Party Girl?

Party Girl is the first book I've ever started AND finished. As a writer you often begin different stories over and over but you don't always finish them. PG will always be special because it's my first-born. ;)

2. Where did you find the inspiration for it?

My own life! I was a celebrity party planner for eight years… I was a fish out of water/country mouse who had no idea what she was doing throwing parties where Brad Pitt was on the guest list. In fact, the more outrageous the scene in the book is, the more likely it came directly from my life.

3. Tell us more about your own personal experience as a party planner and your own event planning firm, Chic Events.

I started out doing events with bigger firms (just like in the book) and eventually moved on to my own company. In the beginning I had NO clue how to run a company but I had one hell of a work ethic and southern charm on my side… slowly but surely I grew Chic to be one of the biggest high-end event planning firms in Los Angeles.

4. How did you become a published author? What gave you the idea to start writing a novel?

I am one of the biggest book nerds you'll ever meet. I read 4-5 books a week and I write for a living (for my digital magazine TheChicSite.com) so it wasn't a stretch to dream of writing my own book. I was deep into a story that involved epic romance and time travel and someone said, "why don't you start by writing what you know?" I know it sounds silly but the second I thought about parties I knew the entire story… someday though, I'm going to finish that time travel book, because it's awesome. ;)

5. Which character did you most enjoy writing about?

I'll always love Landon… because I WAS Landon. So bright eyed and bushy tailed and ready to take on the world. I love that she never loses that. But honestly, Max has a special place in my heart because she's so tough but has a really good heart. I'm working on her book now.

6. What's the one thing you wished you knew when you were starting out as an author?

There's no magic formula for writing a book… you just have to write it. Like I said, I'd dreamed up a hundred stories but if you want an actual BOOK then you better sit down in front of a computer and push your way through it.

7. Are you working on another novel?

Initially, I thought I'd just write Party Girl and move to a different book but these three ladies (Landon, Max and Miko) got under my skin. I'm working Max's book now and Miko's will be last. They're all trying to make it in LA but they have totally different dreams and challenges. As a die-hard romantic I want to see them all happily settled before I move on to other books. =)

8. Do you have any tips for aspiring writers?

Just write. It's hard to get in your word counts. Some days I HATED this book. I would read it and start crying thinking "why did I even try this?!" But every morning, (and I mean EVERY) I woke up at 5AM and was back in front of my computer writing before work. You can't give up on your dreams, even when they feel impossible.

9. What is the last book you read that you'd like to recommend to others?

I love historical romance and I just finished Not Quite a Husband by Sherry Thomas… she is a fantastic author. Her historicals aren't like anyone else's, and if you like HR, you'll love her.

10. And last but not least, if you had to describe Party Girl in just three words, which words would you pick?

Fun, Sweet, Sparkly!
---
---