RACHAEL JOHNS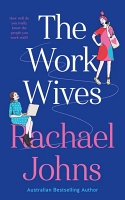 The Work Wives (2022)
Deb and Quinn work together at an energy drink company – Deb in payroll and Quinn in digital marketing. They call each other their "work wife" and have started to catch up outside the office as well.
Quinn thinks it's time for her to take a break from the dating apps while trying to convince her friend to give it a go. Then Quinn meets her perfect man in real life when she drops her handbag on the street and this guy stops to help her. If only she could find Handbag Guy again…
Meanwhile, Deb's teen daughter, Ramona, has swapped to a private girls school on scholarship to do their fashion design course. A lover of vintage clothing and usually a bit of an outcast, she is delighted when she is befriended by the most popular girls in her year. But this creates tension with her mum and Deb has her reasons for being so over-protective.
There is so much more to this plot (the book runs to 500 pages), with a prologue foreshadowing a major arrival at the office. Personally, I would have preferred to have not known about this until it happened in the timeline of the story.
With the narrative told from the viewpoints of the three women, I must admit I enjoyed the teen's parts the best. Overall it was an enjoyable read although the dramatic reveal felt a bit too Bold and the Beautiful.

---
Lost Without You (2018)
Author and illustrator Paige's book launch is derailed when her mum, Rebecca, is rushed to hospital and diagnosed with kidney disease. The medical emergency also causes her boyfriend Solomon to postpone his proposal. However, once she is finally engaged, Paige decides to honour her mother by wearing her wedding dress.
But the only problem is that the dress was given away to a charity shop. So Paige is determined to track it down. Meanwhile, Josie is struggling with pregnancy loss and Clara needs to move on without her ex-husband, who is now down-and-out after being the singer of a one-hit wonder in the 1980s.
This book weaves all these women's narratives into a delightful story. Poignant and uplifting, it was a joy to spend time in these characters' orbit.

---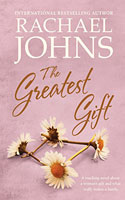 The Greatest Gift (2017)
Radio announcer Harper Drummond is happily married but after a less than idyllic childhood, vows not to have children. Claire had childhood leukaemia and cannot have children but would like them desperately. At a crisis point, Harper wants to do something important with her life and decides to donate her eggs to a worthy couple. Claire and Jasper are the lucky recipients but the act of kindness sets in train events that will change Harper's life forever.
This book deals beautifully with the issue of egg donation and infertility and we get to learn about the craft of hot air ballooning as well. A warm, rich read. (LF)

---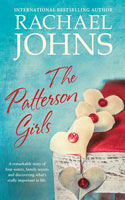 The Patterson Girls (2015)
Four sisters return from around the world to their South Australian home to spend their first Christmas together without their mum. Still dealing with their grief, all are keeping something from one another - obstetrician Madeleine has a crush on an engaged colleague; teacher Lucinda has been struggling to conceive, violinist Abigail has been dumped from her orchestra, and Charlie can't stop wishing her old friend, Mitch, was something more.
When they realise their father is exhausted from running the Meadow Brook motel, Charlie - who has always felt like the least successful of the clan - offers to stay on to help out. Then the girls find out about a family curse – a discovery which affects all of them over the next few months.
With plenty of romance and heartache, this is a well-written family drama in the vein of Monica McInerney. The sisters are especially brought to life well. The story did drag a little in the middle but then picked up again with a shocking confession.

---
Outback Dreams (2013)
In Outback Dreams there are several storylines running smoothly together. The first is where we discover Monty's little brother Will suffers from high-functioning autism. I liked reading about this because I have some family members who are on the Autism Spectrum Chart.
The second thread introduces us to the blooming and strong friendship between Monty and Faith. Best friends and inseparable for years, the pair are now nearing their 30s - Faith wants more but it seems that Monty is romantically interested in Ruby - the new woman in town whom all the guys have their eyes on.
The third storyline focuses on the relationships between Faith and her family and Monty and his. Each in their own way are close yet estranged from their families and it seems like now is the time to stand up and let them know how they feel before it's too late. When an opportunity arises for Faith to do something for her farming community and for a cause she feels dearly about, is this the push she's been needing to move on with her life and let the world know what Faith wants?
This is a book that reminds readers that if you have a dream you should go for it as you often only have one chance to do it right and if you never go for it - you will always be wondering "what if"? (PP)

---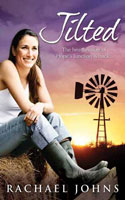 Jilted (2012)
Ellie is a TV soap star who has returned from Sydney to her hometown of Hope's Junction to look after her guardian Matilda while she recuperates from a fall. Her visit home is anything but peachy as the whole town remembers the day she stood golden boy Flynn Quartermaine up at the altar. All Ellie wants to do is look after Matilda and then return to her old life.
However, it seems that Hope's Junction still plays a part in Ellie's life and that no matter what happened she never stopped loving Flynn and vice versa. Can Ellie win not only the heart of Flynn back but also the hearts of those in Hope's Junction? What will happen when tragedy strikes and it seems as if there is no one to pick up the pieces? This story will hook readers from the first as they sympathise with Ellie and feel Flynn's pain. (PP)