POLLY WILLIAMS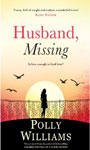 Husband, Missing (2013)
Gina always told her family and friends that when you know, you know. This was her reasoning behind marrying Rex after only knowing him for six months. Gina is as happy as she has ever been and cannot wait to spend the rest of her life with Rex. That is until she gets a phone call from Rex's brother, Jake, to say Rex has gone missing on their lads holiday abroad. Gina flies out to join her brother-in-law to search for Rex. What Gina doesn't count on is that the journey to find Rex will spark discoveries from her husband's past that leads her to question just how well she really knows him. Although the ending is predictable, it is extremely satisfying and will have you smiling from ear to ear. Polly has a beautiful, humorous touch that lights up the pages of her books and she always manages to take you on an emotional journey. Her characters are so well written and they stay with you long after you have finished reading. A fast-paced beautiful read that will leave you questioning the ones you love most. (LL)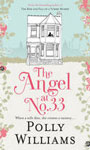 The Angel at No.33 (2011)
aka Afterwife
Sophie doesn't want to leave her husband Ollie and her son Freddie to cope by themselves, but after being hit by a bus she doesn't have any choice other than to watch over them. With Ollie hopeless without her and her lists, Sophie's friends launch Help Ollie Project. Meanwhile her best friend Jenny is planning her wedding and Sophie hopes she'll find out the secret she was never able to tell her. Polly's sharp and sassy writing style brings an amusing Sophie the ghost to life. The characters are brilliantly observed from the Muswell Hill mums swooning after the handsome widower to Jenny and Ollie caught up in pure grief at the loss of Sophie. Despite the difficult topic, it is written with sensitivity and humour and it is a really sweet love story. It was one of those books where the worst part is when it ends. (AB)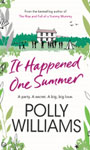 It Happened One Summer (2011)
Nell became estranged from her family after her boyfriend Jeremy ditched her for her sister five years ago. Now she is about to venture on a summer that will change her and others' lives forever. Nell, a single mother of a four-year-old daughter, decides to take a chance when she is invited back to her family home in Cornwall. However, she is about to discover that she wasn't the only one invited and her mother, Valerie, has an ulterior motive. Jeremy and her sister Heather are about to get married and Valerie hasn't got long to live. This is an engaging novel about strained family ties and explosive secrets. (PP)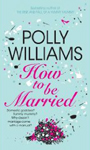 How to Be Married (2010)
Polly Williams has done the yummy mummy, the bad bride and the good girl. Now it's the turn of the world?s worst wife. Sadie Drew is not particularly domesticated and she's too busy being a florist to care about her appearance. But with her husband Tom now needing a corporate wife and her mother-in-law gleefully warning that she is in danger of losing him, Sadie decides to transform herself into the perfect wife. She is assisted by a wealthy old lady called Enid who is more than willing to pass on her marital tips in exchange for company. But Sadie, a witty heroine who gets herself into all sorts of pickles, soon discovers it'll take more than just mastering trifles, matching socks and wearing lipstick.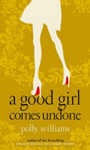 A Good Girl Comes Undone (2008)
Annie Rafferty, deputy editor at Glo magazine, lives with her boyfriend Nick in a three-bedroom home she's just bought. But cracks begin to appear in their relationship when Nick leaves his PR job to 'find himself'. Suddenly Annie is the breadwinner just when she's fighting for survival at the office. Ambitious colleague Alexis is after her job while the new exec Don, who is looking at revamping the magazine, is definitely exerting his male presence. It's enough to get Annie reassessing her life, partner, career - and her good girl tag.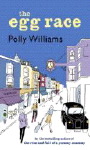 The Egg Race (2007)
Also known as A Bad Bride's Tale
Thirty-four-year-old Stevie Jonson is not sure she's doing the right thing marrying Jez. But at least it will give her a chance to have babies before it's too late. As she lurches further along a doubt-ridden path, she runs into beautiful but shallow Katy Norris, who's desperate to get her boyfriend Seb to commit. To add to her confusion, Stevie feels there's still a spark with old flame Sam even though she's set him up with her best friend.

The Rise and Fall of a Yummy Mummy (2006)
Six months after the birth of her daughter Evie, Amy Crane is still schlupping around in maternity clothes. Then she meets Alice, who introduces her to the yummy mummy brigade. Following her new friend's advice, Amy is caught up in a whirlwind of designer shoes, Botox injections and yoga classes. These new interests, including yummy yoga instructor Josh, put further pressure on her relationship with boyfriend Joe, who she suspects cheated on her during her pregnancy.

---
---