POLLY JAMES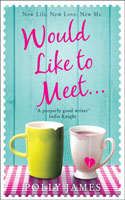 Would Like to Meet (2016)
After a tiff escalates at New Year's, Hannah and husband Dan decide to separate after twenty-odd years of marriage. With only a grown-up son at home and even her ageing aunt enjoying a more exciting life, Hannah realises – even though she doesn't want her marriage to end - she needs to get out there again. With the help of a makeover by her glamorous friend Eva, Hannah hits the dating scene again – and she's in for some real surprises. An enjoyable read with an engaging writing style and plenty of funny moments, the story was also enhanced by an amusing supporting cast, such as her Fembot boss and her green-eyed co-worker, Esther.

---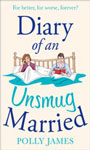 Diary of an Unsmug Married (2014)
Molly is a senior caseworker for Labour MP Andrew Sinclair. Which means it is her role to deal with the constituents who contact his office looking for advice and support - the downtrodden, the insufferable and the downright certifiably insane. The story kicks off around the time that Tory leader David Cameron assumed power in 2010. Molly's been married to Max for years but why is he suddenly now working out and working late? Does it have anything to do with their next-door-neighbour, Ellen, flaunting herself at every opportunity? Then an old school mate, Johnny Hunter - now an oil company director working out of Russia - gets in touch with Molly via Facebook. She can't remember him but apparently he can't forget their schoolyard close encounters. Will she be tempted by this international man of mystery? Based on the Mid Wife Crisis blog and paying homage to the Bridget Jones concept of the smug married, the book might prove a bit too political for some (there's lots of explanatory footnotes for those not au fait with the British party system). For me, the crazy constituents and the blundering MP were the highlights. Nevertheless, there's plenty of humour and marital misunderstandings to keep the general reader happy too.