PLUM SYKES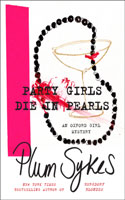 Party Girls Die In Pearls (2017)
Ursula Flowerbutton (love the surname) was raised by her two grandmothers in a remote farm in the English countryside and when she enters Christminster College in Oxford, she is very excited to mingle with the aristocracy and attend parties. While her new American friend, Nancy, is interested in finding an earl to marry, Ursula dreams of becoming a journalist and wants to be part of the university's newspaper. After she discovers the body of socialite Lady India, Ursula is asked to write about the murder for the newspaper. Since her article will be published only if she resolves the murder, Ursula turns into an English Nancy Drew and starts investigating with the help of her new friends, Nancy and Horatio. Between party invitations, dates, rowing lessons and history essays, Ursula discovers a world of secrets and scandal within the university.
Set in the 1980s, the author includes plenty of footnotes to explain the culture and fashion of the time. In this first book of a series (I can't wait for the next one!), mystery and comedy go perfectly together. I loved the interesting and colourful cast of characters, the atmospheric setting of Oxford University, and the gripping and captivating plot that kept me glued to the page. (NP)

---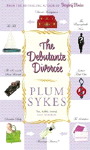 The Debutante Divorcee (2006)
Sylvia Mortimer is on her honeymoon in Careyes, Mexico, (unfortunately her husband Hunter had to return to work) when she meets Lauren Blount, who is celebrating her divorce. The two become fast friends and join in a whirlwind of parties and trips, including heading to Moscow to buy jewellery for the rich but unGoogleable Giles Monterey. With rumours swirling that Hunter is having an affair, Sylvia has to decide whether to subscribe to Lauren's 'Who needs a husband anyway?' philosophy - or stand and fight for her man.

---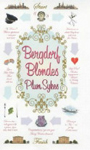 Bergdorf Blondes (2004)
Bergdorf Blondes are Park Avenue Princesses (PAPs) who are on the prowl for the must-have accessory, a rich fiancé. English Lit major Moi, who works as a freelance magazine writer, is friends with the perfect example, department store heiress Julie Bergdorf, who gets her blonde locks touched up every 13 days. Will Moi find her Prospective Husband (PH) in her European travels or has he been under her nose all this time?