PHILLIPA ASHLEY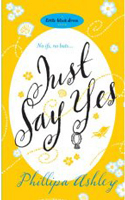 Just Say Yes (2008)
Lucy Gibson becomes public enemy No. 1 when she turns down the on-air proposal of her boyfriend of six months. Nick had just been announced as the winner of an Apprentice-like reality TV show called Hot Shots. Hounded by the press, Lucy heads to her friend Fiona's cottage in Cornwall where she falls for Josh.
But he unfortunately has a not-very-nice girlfriend called Sara, who shares his passion for yachting. He also likes people to be upfront with him, which means there's gonna be trouble when he finds out Lucy hasn't been honest about why she is in Cornwall.
So ho-hum predictable, with some confusing consistency errors and the usual cheesy dialogue, this is the third Ashley book I have tried but from now on I will Just Say No.

---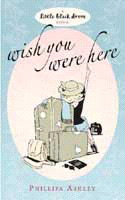 Wish You Were Here (2007)
When Beth Allen applies for a job with specialist travel company Big Outdoors, she's unaware she's about to face its new CEO, Jack Thornfield - a man she'd had a holiday romance with eight years earlier. He'd proposed but then disappeared.
Although she doesn't want to spend time with the man who broke her heart, Beth takes the job, relieved she is able to help out her injured father and aspiring drama student sister Louise. She heads to London, leaving behind boyfriend Marcus. Will she find out what made Jack disappear and could they finally be in the right place at the right time?
With the dialogue in this book so forced and the plot lacking any surprises, it was really a case of 'wish I'd never heard of this book'. But if you can't get enough of lines like: 'Why? Is the boss a prick?' 'Lou!' exclaimed Beth. She swore herself, but couldn't really complain. It was the thought of Jack and that part of his anatomy together that had shocked her . . . then throw this in your suitcase for a holiday read.

---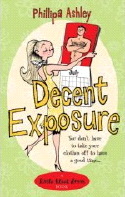 Decent Exposure (2006)
Emma Tremayne has moved to the Lake District after losing her boyfriend and her high-flying PR job in London. Trying to convince the men of the local mountain rescue team to pose for a naked fundraising calendar, Emma butts heads with handsome entrepreneur Will Tennant.
Bit too cheesy for my tastes but this book won the Romantic Novelists' Association Joan Hessayon award for new writers.