INTERVIEW
July 2012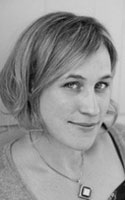 PAMELA RIBON
Pamela Ribon is a Los Angeles-based author and television writer, including for Samantha Who? A pioneer in the blogging world, her first novel, Why Girls Are Weird, was loosely based on her pamie.com website. Her fourth novel You Take It From Here was released this month. (Interview by Leah Eggleston Krygowski)
1. Tell us about your latest book, You Take It From Here.

It's about two life-long friends who decide to share a big secret when one of them is facing terminal cancer and asks the other to take over her life once she's gone. It's about the lengths we'll go to for the people we love. (It's also a comedy.)

2. How did you come up with the idea for the book?

I have a few bossy friends and I started thinking about what would happen if one of them decided they needed me to finish her life for her. Just come in and raise her daughter, marry her husband, just to make sure that things were still being done "the right way" once she wasn't able to be there anymore.

3. Would you consider yourself more like Smidge or Danielle?

I'm definitely more of a Danielle than a Smidge, but I try to take tips from Smidge on how to get people to listen.

4. I found Smidge a really hard character to like, even given her situation. Was it hard to write a character people may find unlikeable?

I know she can be abrasive and blunt but I find most people have someone like that in their lives – either a friend or a family member – and we know them so well we know why they behave the way they do, and it keeps us from killing them. Because ultimately we love them. I don't find completely likeable characters interesting, because they aren't very realistic. Everybody's got secrets and regrets. Some just wear them on the outside.

5. Do you have experience with hospice and/or end-stage care?

Unfortunately, I do. My father died of lung cancer ten years ago.

6. How is writing a novel different from writing for television?

Writing a novel is a very lonely, lengthy process that can take over a year before you see a finished product. When you're in production on a television show, sometimes there's only a couple of weeks from script to screen. And there's over a hundred people involved, all with opinions and ideas.

7. Do you have a preference for either format?

I like switching back and forth, because television is fast-paced, intense and crazy-making. When you finish a season you honestly need a couple of weeks to get those voices out of your head, to hide away from people for a little while. But writing a novel is so much time alone with your thoughts, you start to forget to ever wear real clothes and lose your ability to have genuine social interaction. I need both of these outlets to keep me as close to normal as possible.

8. With all you have going on right now, how do you find time to keep current with your blog, pamie.com?

Luckily people have been responding to my Weekly Procrastination, which is advice on writing. When I have an email that needs to be answered publicly, I get around to writing on pamie.com much more quickly than the random story. Plus these days a lot of what I want to write about ends up going into other outlets – scripts, novels, pitches, etc. So I don't always put the stories online first. It comes in waves; if I have a lot to do and I'm feeling ultra-procrastination-y, I end up writing more at pamie.com. But the bottom line: Twitter is the real reason my website gets neglected. It's so much easier to write two sentences than an entire entry.

This is a yearly event I do with my friend Dave Cole where we find struggling libraries in need and help stock their shelves with brand-new books donated by the readers of pamie.com and fans of various other web projects Dave and I have been associated with over the years, including Television Without Pity (which he co-created).

10. Do you have a favourite book you re-read every year?

No, I'm not one for re-reading or re-watching. I did that more when I was a kid or a teen, but now I feel like I'll never catch up to all the things there are to read and see and absorb, so I rarely go back unless it's to share it with someone.

11. What are you currently working on?

I'm waiting to hear on an original feature I wrote for The Disney Channel and I just turned in the latest draft of a graphic novel with Oni Press illustrated by Emi Lenox.

12. Which is the bigger thrill: Having a Wikipedia page or being listed in the Oxford English Dictionary under "Muffin Top?"

Well, I didn't create my Wikipedia page, so that's pretty cool, but I could have done that myself if I had the ego. I have no control over the OED, nor did I know I could even dream that accomplishment to be possible, so it's really more the bigger reward. But just to make sure I don't get a big head about it, I'm in the dictionary under something considered unsightly.
---
---