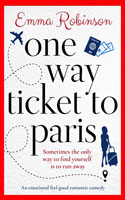 One Way Ticket to Paris – Emma Robinson (2018)
Mother-of-two Kate has been feeling overwhelmed, particularly since the death of her father. And he once told her if you ever lose something, go back to the place you last had it. So Kate buys a one-way ticket to Paris, the place she last remembers feeling like herself. She's hoping to spend some time with her best friend who lives in France, but Shannon has a big work conference on as well as her own issues to deal with. Meanwhile on the train there, Kate gets chatting to Laura who confesses that her long-term boyfriend just won't commit.
This story focuses on three women who hope to find some clarity about their future direction over the course of a weekend in Paris. The story flows well from one character to another, however some of their problems seemed contrived, which kept me at a distance as a reader. Plus the resolutions felt far too rushed, leaving me with a neat but unsatisfactory ending.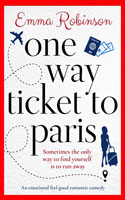 Sometimes the only way to find yourself is to run away in Emma Robinson's latest novel, One Way Ticket to Paris.
The summary says: "When I was a kid and I'd lost something, my dad always said 'Go back to the place you last had it'. The problem is that what I've lost is... me.
Kate is a married mother of two. But she is running away from her entire life - to the last place she truly remembers feeling like herself: Paris.
It's a one-way ticket. She knows she can't truly leave everything behind. But for once she needs to live, rather than just to exist...
Kate's journey takes her to see her best friend Shannon, who's living in Paris and hiding a life-changing secret of her own. And along the way she meets Laura - a colleague of Shannon's - who's desperate for marriage and children... in fact, exactly the things that Kate has left behind.
All three women are feeling lost. But can they find themselves in Paris? Or are they just hiding from what the future holds for them?" One Way Ticket to Paris is out in October 2018.