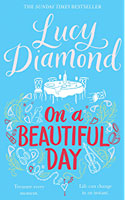 On a Beautiful Day - Lucy Diamond (2018)
India meets up with three friends for a lovely birthday lunch but they are all shaken after witnessing a tragic accident. India is drawn to one of the victims, Eve is distracted due to worrying about a lump in her breast, Jo is seeing a new guy whose daughter hates her, while her sister Laura's hopes for a baby are dwindling.
The story centres around the notion that life can change in a moment, and sees all four women drawing on their friendship to navigate life's ups and down. How Diamond chose to sign off from these characters in the last few pages was beautifully done. It's a satisfying read that will warm your heart.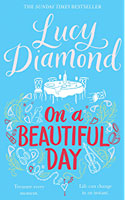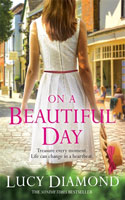 Life can change in a heartbeat in Lucy Diamond's latest novel, On a Beautiful Day. The summary says: "Four thirty-something friends are catching up, eating al fresco at a bistro in Manchester.
Laura is desperate to get pregnant and is glumly starting to think it's never going to happen. Recent divorcee Juliet is swept up in a whirlwind romance although finding it hard to win over her new partner's precocious teenage daughter. Eve - uptight and a control freak - has found a lump in her breast and is in complete denial that anything might be wrong. India is the most happy-go-lucky of the four but when you're trying to juggle a career, marriage, kids, ailing parents, neurotic dog and falling-down house, there's always a catastrophe waiting in the wings.
An accident they witness on the street changes them forever and makes them contemplate just how lucky (or not) they are ..." On a Beautiful Day is out in January 2018.