OLIVIA RYAN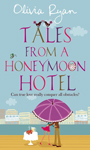 Tales From a Honeymoon Hotel (2009)
Three couples meet up in Croatia on their honeymoons. Childhood sweethearts Gemma and Andy seem the perfect couple but one of the other island visitors seems to know Andy far too well. Older couple Ruby and Harold are hoping for a fresh start after some pretty troubled times but Harold just can't seem to work up the energy to enjoy his honeymoon. And Jo and Mark have just married because she is pregnant. But Jo can't seem to stand his fussing - especially as he's not even the father. Told from the viewpoints of the three women, this is the last book in the Tales From trilogy and like the earlier books, there are lots of plot twists and character secrets to keep you in suspense. I really wish there were more to come!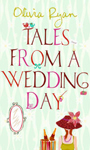 Tales From a Wedding Day (2008)
It's Samantha's wedding day and as her best friend and chief bridesmaid, Allie is ready to leap into action whenever and wherever trouble looms. And Samantha's madcap family is unlikely not to get into trouble. The bride is scared about settling down; her spoilt younger sister Chloe is bringing an uninvited guest; her grandfather doesn't know what day it is; and her young nephew Troy can't help misbehaving. And it seems Sam has also invited their treacherous ex-friend Julia to the wedding while her brother David seems to have his eye on Abbie. With the story set over the course of the big day, this is another delightful tale from Ryan, one of chick lit's most recent great finds.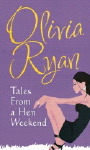 Tales From a Hen Weekend (2007)
Katie is engaged to Matt and about to set off on her hen weekend to Dublin. She's not happy about her fiance taking off to Prague with the boys for 10 days but it seems what he's up to is the least of her worries. With alcohol loosening lips, her mum, sister and close friends start revealing some big secrets. As a treasure hunt introduces the bride-to-be to Harry - as in find a gorgeous man - it seems Katie's keeping the biggest secret of them all. Fasten your veil, raise your glass and expect the unexpected - this page-turner is a real gift.

---
---