NINA BELL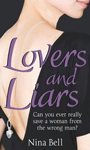 Lovers and Liars (2010)
When Sophie walks in on her property developer father Bill with his accountant Anthea, she suspects they are having an affair. But should she tell her rather fragile mother Paige, who never seems capable of dealing with anything? Paige, Sophie and youngest daughter Jess all attribute Bill's temper to the stress of running a business that is always on the brink of bankruptcy. Jess has always stayed somewhat removed from her dysfunctional family and is now dating charismatic business journalist Jake. She wouldn't make the same mistake as her mother though, would she? This is a very powerful, sensitively written story centred around an emotionally abusive bully. It highlights the insidious damage that words can inflict on a person's self-esteem - and how an abusive home environment can affect the next generation.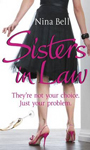 Sisters in Law (2009)
When Kate Fox invites a new friend, Sasha, into her family's life, she never imagined the newly separated mother of two would wreak so much havoc. But is Sasha after her partner Jonny, who seems reluctant to marry Kate even after 15 years? Or does she have her eye on her brothers, successful head of the family Si who is married to high-flying divorce lawyer Olivia, or her impulsive youngest brother Jack, whose meek wife Heather has stood by him as a loyal army wife. A totally absorbing read about three very different women related by marriage who are trying to keep their relationships afloat. With one very nasty villain, this is among this year's best reads.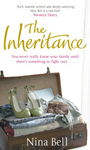 The Inheritance (2008)
The day after Bramble has an argument about her horse-riding future with her father Edward, he dies of a heart attack. Bramble had been running the Lorenden horse-training property with her father - and was expected to inherit it. But her father's will instead shares the assets among his three daughters, including self-centred soapie actress Helena and Felicity, a globetrotting journalist who had never healed a rift with her father. With Helena insistent on selling up to developers, Bramble wants time to turn their fortunes around, with the help of mysterious nagsman Jez, who turned up on the doorstep straight after her father's death. Even if you don't enjoy all the equestrian details, stick with it as it's a gripping story about family secrets - all set amid an ominous atmosphere.

---
Also by author:


The Empty Nesters

---