NIC TATANO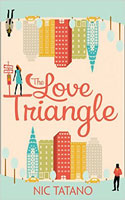 The Love Triangle (2016)
By dumping a dodgy politician and rescuing a young footballer's reputation after his fall from grace, PR executive Lexi earns a reputation as a "Spin Girl". Her rising profile will hopefully enable her to secure more clients for her fledgling company. She soon finds herself working with two hot prospects, who also both want to date her – a superstar quarterback called Jake who loves to splash the cash, and down-to-earth sports agent Kyle. With another feisty redhead added to his roster of heroines, Nic Tatano has created a love triangle so satisfyingly full of complications that you'll be hanging on to see which suitor wins her heart. It was also fun watching on as the characters embarked on some very different dates around New York. No spin needed here – this is simply another fantastic story from one of my fave rom-com authors.

---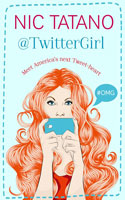 Twitter Girl (2014)
Cassidy Shea, aka Twitter Girl, is fired from her broadcasting job after one controversial tweet too many. But she's soon snapped up to join the campaign team of presidential hopeful Will Becker as his "vice-president of snark", using Twitter to cut down his rivals with her trademark sarcasm. But it appears as if America's dreamiest catch (Will is a widower) is also looking for a First Lady as well. With the media falling head-first for Will and Cassidy's fairytale romance, an anonymous source warns her that all is not as it appears, igniting her reporter instincts. Has Cassidy been backing the wrong man all along? This has all the familiar ingredients of a Nic Tatano rom-com: Sassy redhead. Check. Who works in a media-related field. Check. Rapid-fire dialogue with plenty of sexual tension and romance complications. Check. Check. And check. This modus operandi is certainly working for Tatano and I'm nowhere near tiring of the formula yet.

---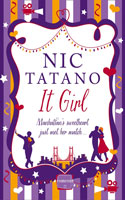 It Girl (2014)
When New York news reporter Veronica gets a shot at anchoring the morning news program, she isn't exactly enthusiastic. Those breakfast shows need a perky presenter, not a hard-nose journalist like herself. And fuhgedd about all those inhumane 2am wake-up calls! But with the carrot of becoming night news anchor dangled in front of her and a chance to work with her good friend Scott, Veronica reluctantly accepts. Lack of sleep means she's more snarky than perky but the audience still laps it all up. Then Veronica is cast on a celebrity dance show, after clashing with its hunky British judge Dexter. The chemistry between Veronica and Dexter is as fiery as her red hair, although the clash between their cultures does get a little grating at times (do Americans really not understand all those English terms?) Tatano - one of chick lit's best finds of the past year - is an entertaining writer, penning snappy, witty dialogue and throwing in sub-plots at just the right times to keep the narrative bubbling along.

---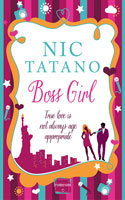 Boss Girl (2014)
Four women, one news channel and the desire to chase the highest ratings - it's a recipe for disaster. Sydney Hack believes in being unconventional so along with her three colleagues, she outlines a plan to hire a brigade of good-looking male news anchors to sit next to the female anchors. They are looking for any man who is hot, amazing in bed and ready to share the bed with all four women, in turn. Sydney's idea works, the ratings skyrocket and now she has way too many men to play with. This novel is a lot different from the kind of books I usually read. I like to read about heroines with flaws who then live and love happily ever after but this book was like a fresh breath of air to me. Here the protagonist is a strong-minded woman with a kick-ass attitude who doesn't mind putting everything on the line and using men as a toy for her own pleasure. I did love the character but did feel a bit uncomfortable with the premise of the story. Men have been acting this way for years but it was a bit awkward to see the women stooping to the same level. My advice to you is download this book and read it with a very open mind. If I had to describe it in one word then I would say scandalous! (SS)

---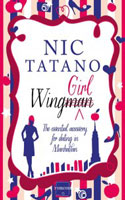 Wing Girl (2013)
As an investigative TV reporter, Belinda is known for her no-holds-barred approach which leaves corrupt politicians quivering in her wake. But she certainly isn't known for her social charms. So much so that any man approaching her is usually quickly turned off by her prickly attitude and lack of feminine appeal. So her closest girl friends band together for an intervention, in which Belinda is made over and instructed in dating etiquette. When she re-emerges as a totally hot news babe, her tip line runs hot with viewers asking about her hair and clothes. So she has to prove to everyone she still has the credentials to break great stories, like the possible cooking the books at the council office. It seems Belinda's new look has arrived just in time for a romance with Scott, a charming guy she met volunteering at the cat haven. So why does one of her friends keep trying to set her up with her annoying cousin, Vincent? This is a fantastic, fun story. Forget for a minute that seasoned investigative reporters don't blab about their inquiries to guys they've just met, that the wing girl angle really isn't explored at all and you know from the word go who the bad guy is and what he's up to. Nic Tatano has done an admirable job immersing himself into a females world (despite the fact no woman would refer to another's 'rack'). The heroine is sassy, the dialogue is razor-sharp and the romance is sweet. Well worth a read.