NICOLE KENNEDY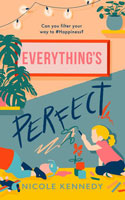 Everything's Perfect (2021)
Cassie is a well-known parenting Instagrammer known as Happy Holliday with gender-neutral twins. But her marriage is nearly at breaking point, she's tumbling down the Instamum popularity scale and someone has created a profile to poke fun at her.
New mum Beth is rarely online apart from some Pinterest. She has no idea that the woman she just befriended at the playground is an online star. However, Beth's journalist sister Lucy has a little secret, she's been operating an account called Mardy Mum, relaying events from Beth's life.
Books centred around social media and influencers always pique my interest and I have read quite a few lately. This debut novel follows a similar theme of exposing the fakeness and gap between real and curated life, but perhaps went a tad too long. The story also focused on the exhausting days of new motherhood, which will be a relatable topic for many.

---