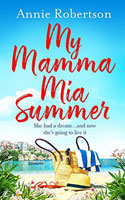 Annie Robertson takes readers on a trip to Greece in her novel, My Mamma Mia Summer. The summary says: "One summer... One dream... One chance to make it happen.
Laurel hasn't taken a risk her whole life. Now as summer dawns, she's going to do something that nobody expects of her. Laurel turns to her ABBA albums and her favourite film, Mamma Mia! She grabs her passport, dons her dungarees, and jets off to Skopelos for her own Meryl-inspired adventure.
Laurel books into the faded but charming Villa Athena and befriends its eccentric owner. As she explores the island's famous sights, Laurel finds herself feeling strangely at home. So should she return to her life in London, or could this be where she truly belongs?" My Mamma Mia Summer is out in July 2018.
TEXT