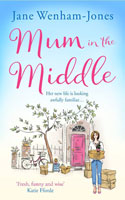 Mum in the Middle, by Jane Wenham-Jones, is about a woman feeling the squeeze of being part of the sandwich generation. The summary says: "Tess has downsized to a lively new town and is ready for 'me' time.
But her Zen-like calm is tested by her boomerang offspring, who keep fluttering back to the nest (usually with a full bag of dirty washing) and by her elderly mother's struggle to hold on to her independence.
Tess is also surprised to discover that there are dark resentments simmering beneath the vintage charm of her new hometown and a spate of vandalism has exposed the rift between the townsfolk and new arrivals like Tess.
Tess enlists the help of gruff newspaper editor Malcolm to get to the bottom of the mystery but when her ex-husband pays an unexpected visit and her mother stages a disappearance, Tess starts to feel her new-found freedom wearing just a little thin..." Mum in the Middle is out in June 2018.
TEXT