MIRIAM MORRISON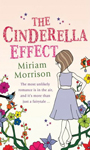 The Cinderella Effect (2009)
Wannabe artist Lila has just broken up with her latest fiance - there's been a few - when her family's dilapidated mansion is picked as the location for her famous godfather's next play. Hired as Julian's assistant, Lila is thrilled to hear that Hollywood heart-throb Mitch Clayton is set to star. But as rehearsals for A Midsummer Night's Dream get underway, Lila learns that Mitch is quite shallow and can't even remember her name, while his persecuted stepbrother Johnny is a far more attractive package. But anyway she's sworn off men for now as part of her life-changing Four-Point Plan. Meanwhile Johnny needs to overcome his stage fright and stop being his family's doormat. Told in alternate chapters from Lila and Johnny's viewpoints, save this for those days when you want a light read with a fairytale ending.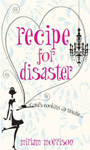 Recipe for Disaster (2008)
Newspaper reporter Kate Walker needs a tasty new story, so she decides to do an expose on chefs and the restaurant industry. She goes undercover as a waitress at hot-tempered Jake Goldman's new restaurant Cuisine. Jake has put everything on the line, including every cent he's got. His wealthy rival since culinary school, Harry Hunter, has also just opened up a restaurant in town and he's intent on stealing away not only Jake's staff but his model girlfriend too. Through exhausting shifts, crazy colleagues, flooding and reality cooking shows, Kate finds a lot of the heat in the cooker-pressure environment is actually being generated between her and Jake. Just ignore the fact that no regional newspaper could spare a reporter for weeks and weeks on such a story - and enjoy this insight into a chef's domain. Dare we say it - this sweet debut is a recipe for success.

---
---