MIRANDA DICKINSON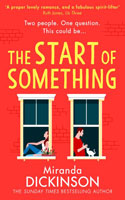 The Start of Something (2022)
Single mum Bethan has just moved into a nice new home with her young son Noah. Lachlan, who lives in the apartment opposite, is stuck at home, on leave from the army to recuperate from a serious car accident.
He can't help but notice he has a cheery new neighbour so one day he puts up a sign in the window asking about her flowers. And this kicks off months of messaging between the pair, without coming together face-to-face.
Told from both perspectives, this heart-warming story sees two strangers reach out for connection in their time of loneliness. I did wonder how the story could be sustained by window communication alone but their side stories were enough to keep driving it forward.

---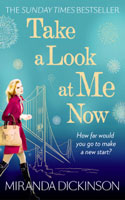 Take a Look at Me Now (2013)
When Nell Sullivan's on-off boyfriend calls her into his office in the planning department where they both work, Nell is sure he's about to suggest they make a fresh go of things. But instead he breaks the news that she is being made redundant. Without a job or a boyfriend, Nell decides she needs to get away and settles on San Francisco where her cousin Lizzie lives.
The city offers Nell some amazing experiences that encourage her to follow her dreams. But before long she has to return home to London and try to make her dreams a reality.
I enjoyed the escapist feel of this novel and could really feel the spirit of San Francisco and Nell's excitement. I thought the story developed well and I liked the fact that we see Nell back home in England after her San Francisco visit and thought this final section really helped the story progress. There were some great characters in the novel too.
Aside from Nell who is a likeable protagonist, Max is the perfect hero with the right amount of charm and self-consciousness, whilst best friend Vicky and the charismatic Mr and Mrs Alfaro are wonderful creations. Although there were moments of predictability, these were matched by some nice surprises and the warmth and heart of this story shines through. (JC)

---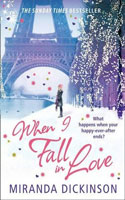 When I Fall in Love (2012)
Eighteen months ago Elsie Maynard made a promise. When an impromptu singing performance leads to her starting a choir, it seems like now is the time to start acting on her talent. With Elsie's confidence growing along with her new choir, she meets Olly Hogarth, a handsome surfer and web designer. But something is holding Elsie back from Olly.
As the choir get an offer in Paris that they can't refuse, Elsie realises she has to confront her past to allow her to find her future.
If you're looking for a book that will make you feel warm and fuzzy inside, look no further than When I Fall in Love. I immediately warmed to Elsie as she embarked on a new chapter in her life and I felt that I could emphasise with the conflicting thoughts and emotions she had. Whilst she was a typical nice girl, I loved that one character in particular always bought out her mean streak and made her seem just that bit more human.
There's also a fabulous supporting cast of colourful characters. It's a definite feel-good read of happy endings and new beginnings. (AB)

---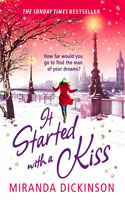 It Started with a Kiss (2011)
It's close to Christmas and Romily Parker feels the need to tell her best friend, Charlie, that she is in love with him. What better time than the present? But, the result is not at all what she expected. The bad part: He doesn't feel the same. The good part: His rejection sends her inadvertently into the arms of a handsome stranger who kisses her and then dashes off never to be seen again.
And this amazing, once-in-a-lifetime kiss is what starts Romily on a quest that will change her life in many ways. After feeling as though the stranger is The One for her, Romily embarks on a year-long quest to find the mystery man whom she and her friends begin to call "PK", short for "Phantom Kisser". The quest, however, takes on a life of its own after she starts a blog about it.
With the help of her aunt and uncle and her band the Pinstripes, Romily seems to have more support than ever to find the man of her dreams. But can she do it? And will she still feel the same if she sees him again?
This is a wonderful Christmas read that will captivate you right from the start. Romily is likeable, sweet and following her heart - which is something we could all learn from. The ending is by far the best part because just as you think it's over and Romily has found her happy ending, something happens that will make her realise she shouldn't just settle for what is presented to her and needs to do what she believes is right, no matter what anyone else thinks. You don't want to miss it! (AS)

---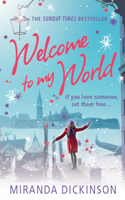 Welcome to My World (2010)
Travel agent Harri Langton loves the thrill of travelling the world. Her dream destination is Venice with all its romance and splendour. However, the closest Harri has ever come to seeing her beloved Venice is through travel books and TV programs. Though she's happy with her life, there is a nagging feeling of emptiness which won't go away.
When Harri's boyfriend, Rob, is tied up with work and Harri is left on her own, she finds herself persuaded to help travel fanatic Alex on his quest for love. In doing so, Harri finds herself enveloped in a whole new set of problems. With Venice at the tip of her fingers, will Harri ever get to see her dream city? Or will she be forever destined to be an armchair traveller, only hearing about other people's experiences?
This is a wonderfully heartfelt book that will thaw even the coldest heart. Harri is so passionate about what she wants yet she lets herself get stepped on like so many of us out there. Reading her story, despite the fact that it's fiction, should be enough to make you want to break free of the chains that bind you and go out and chase your dreams. (AS)

---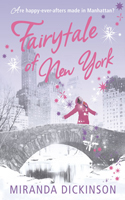 Fairytale of New York (2009)
Rosie Duncan came to the United States from England to start a new life. But when her new start goes horribly wrong, she moves from Boston to New York where she starts working at Kowalski's florist shop. Moving ahead six years, Rosie now owns Kowalski's and has two helpful assistants Marnie and Ed who also serve as two of her closest friends - both have been there for her from the start and have never asked her to divulge her past.
The only person who knows what happened is Rosie's friend Celia, who is a New York Times columnist. Celia throws a party, asking Rosie to be the last-minute replacement florist. There Rosie is introduced to Mimi Sutton and Nate Amie. While Mimi instantly loves Rosie's floristry work - and recommends her as the florist of the moment to all her upper-crust friends - Nate seems to be more interested in Rosie than her flowers. Soon, Rosie and Nate have a blossoming friendship and the chemistry between them is undeniable. The only problem is that Nate is engaged to Mimi's daughter, Caitlin, and Rosie has sworn off men.
Because of Mimi's recommendations, business has never been better. Kowalski's is getting jobs with all the top clients in the city and even booking major events like the Grand Winter Ball and weddings where money has no limits. Then Nate asks Rosie to take on a major commission - his friend's wedding. But Rosie is shocked to see who the client is - David Lithgow - the whole reason Rosie came to New York.
Although the story flows nicely, it takes too long to find out what happened in Rosie's past. And with all the build-up, it was kind of a letdown when you actually find out what happened. Another thing that is sure to drive some readers crazy is the fact that Rosie has two suitors - Nate and her assistant Ed, with whom there is obvious chemistry. It takes the whole book for her to choose one of them and it would have been nicer if it was a little sooner so that we could see their story develop as a couple.
However, despite all of this, the story still has a lot of heart. It has wonderful characters and is a compelling story of forgiveness, redemption and faith in the future. (AS)